The 35 Young Innovators Making Africa Great in 2019 !

35 young Africans aged 18 to 35 with outstanding achievements in their communities represent the winners of the Africa 35.35 Awards, which are awarded annually to celebrate the excellence of African youth and the Afro-diaspora.
A prestigious awards ceremony will be held on 25 November 2019 in Accra, Ghana to award each Laureate and unveil the "Young African of the Year" super prize. The ceremony will be preceded by "INSPIRATION AFRICA", an event that will see African personalities share their inspirational journeys with attendees and is open to the public.
For the fourth year in a row, we are pleased to unveil to you the list of these 35 young talented Africans or of Africa descent who stand out on the continent and in the world, they are in:
ACTING
Halimatou Gadji, 30 years old, Senegal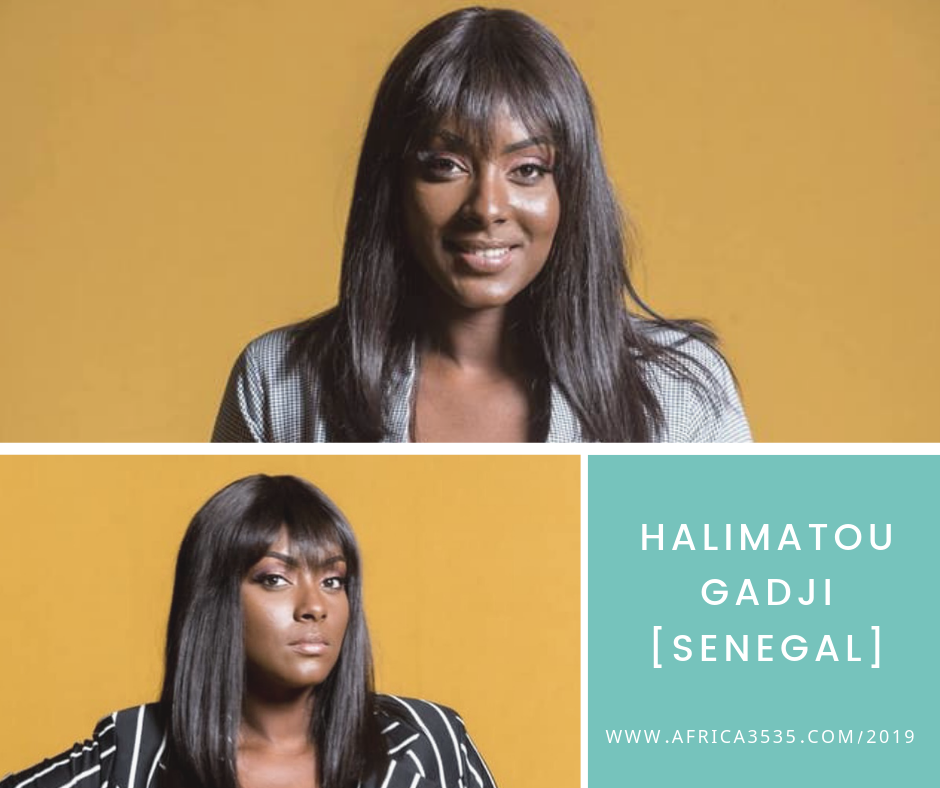 In the senegalese cult series "Maîtresse d'un homme marié" which has 2.4 million Internet and millions of TV viewers, Halimatou Gadji plays the lead role of Marième. A popular Senegalese-Moroccan actress, she asserts herself as a surprising feminine voice in African cinema. Her recent appearances include Sakho & Mangane (2019) and Xalé Bu Rérr (2017).
Martha Ankomah, 33 years old, Ghana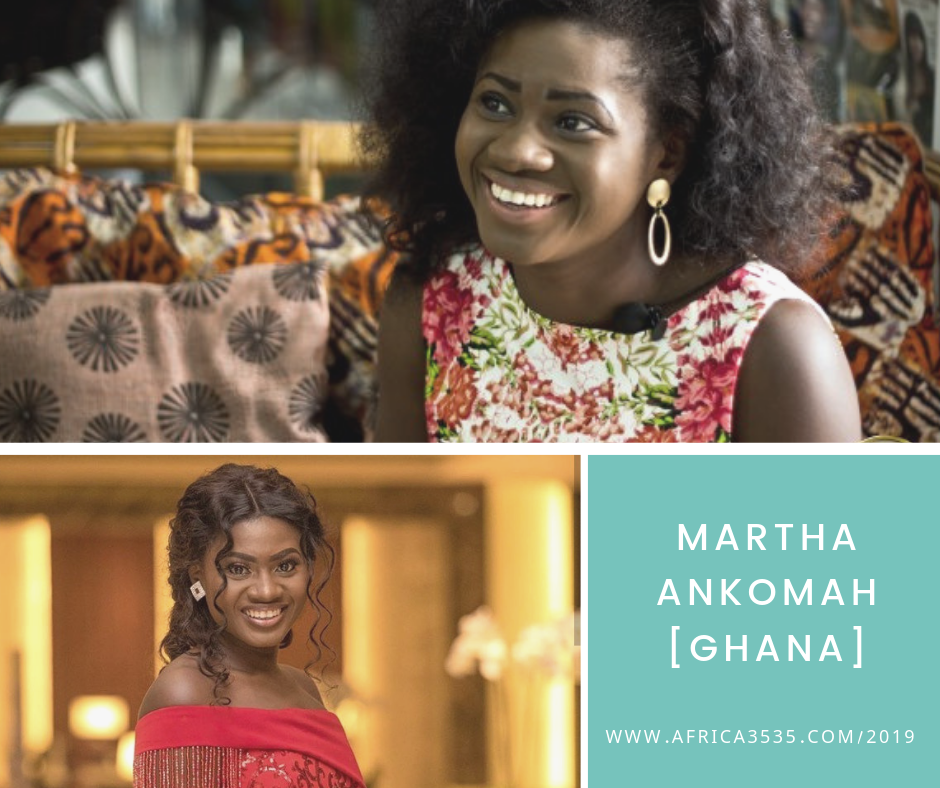 Revealed through the SUNCITY series, Martha Ankomah is an actress celebrated for her outstanding performance in a rich repertoire of more than 100 films. Initiator of the Martha Ankomah Foundation, she uses her popularity and influence to support underprivileged children in Ghana.
Rahama Sadau, 25 years old, Nigeria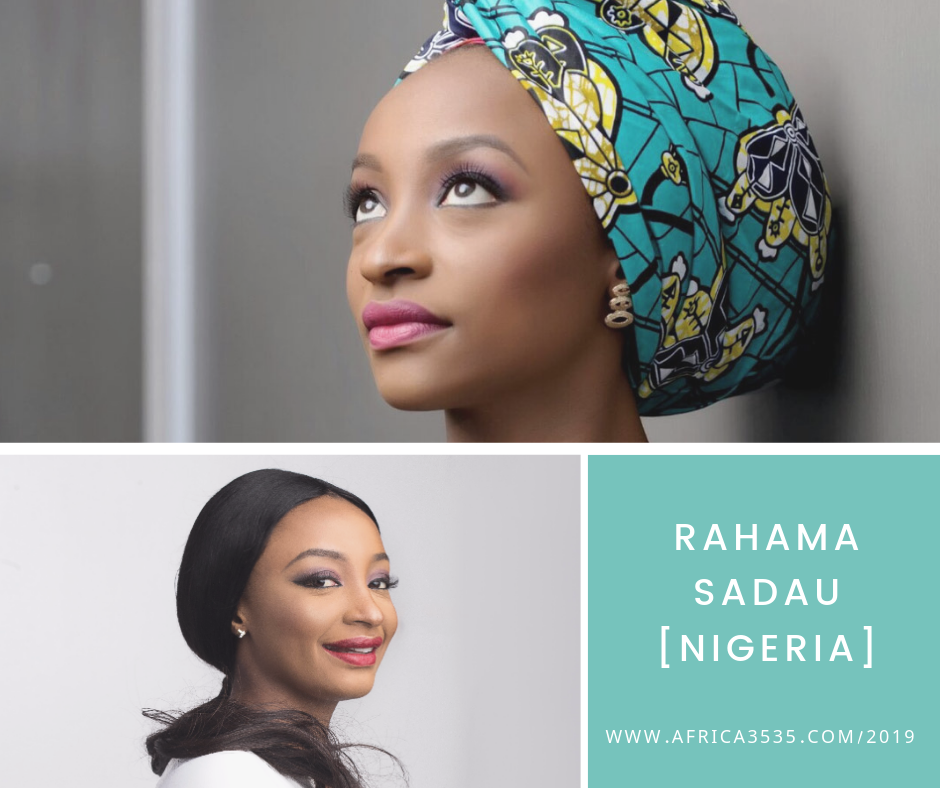 A muse of KANNYWOOD, the Hausa-language film industry of northern Nigeria, Rahama Sadau is a popular Nigerian actress with 2.2 million followers on social media. Other strings to her bow include a production company named Sadau Pictures and Ray of Hope, a humanitarian charity.
ADVOCACY AND COMMUNITY ACTION (two laureates ex aequo)
Elijah Amoo Addo, 29 years old, Ghana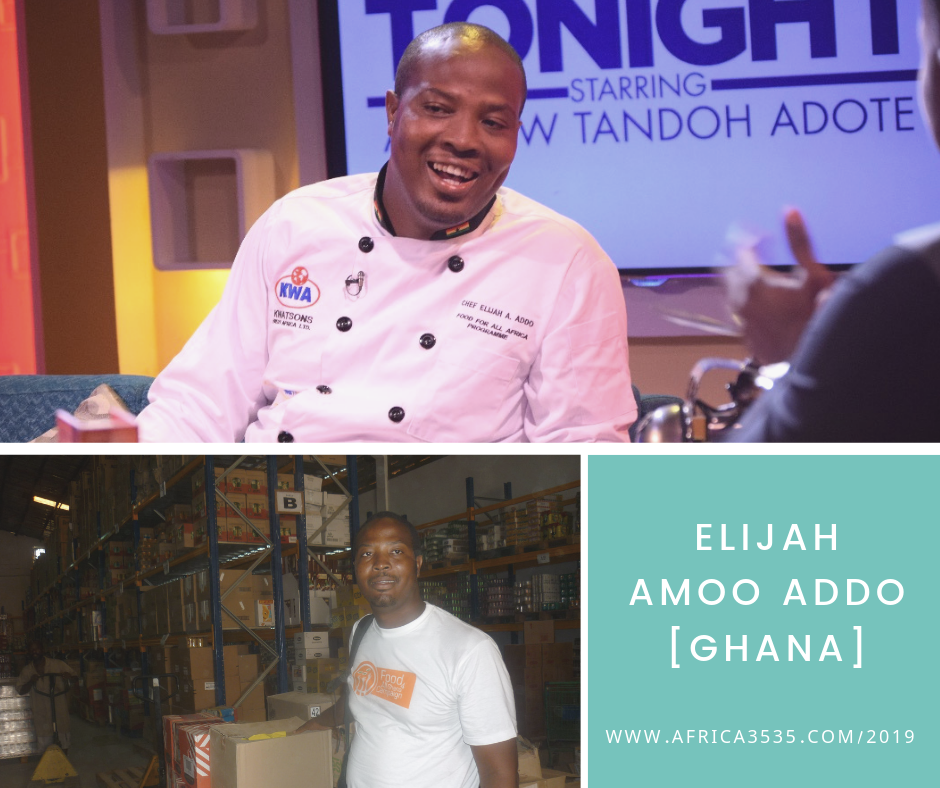 In Ghana, 45% of food perishes along the supply chain. At the same time, 1 out of 4 children goes to bed hungry. « Food for All Africa » founded by the Ghanaian chef Elijah Amoo recovers excess food from distribution companies and farmers and makes it available to vulnerable communities, via an app that allows consulting stock and community stores under the brand name 'Okumkom'. His organization recovers between $8,000 to $10,000 in food per month and supports more than 5,000 beneficiaries.
Ismaila Badji, 26 years old, Senegal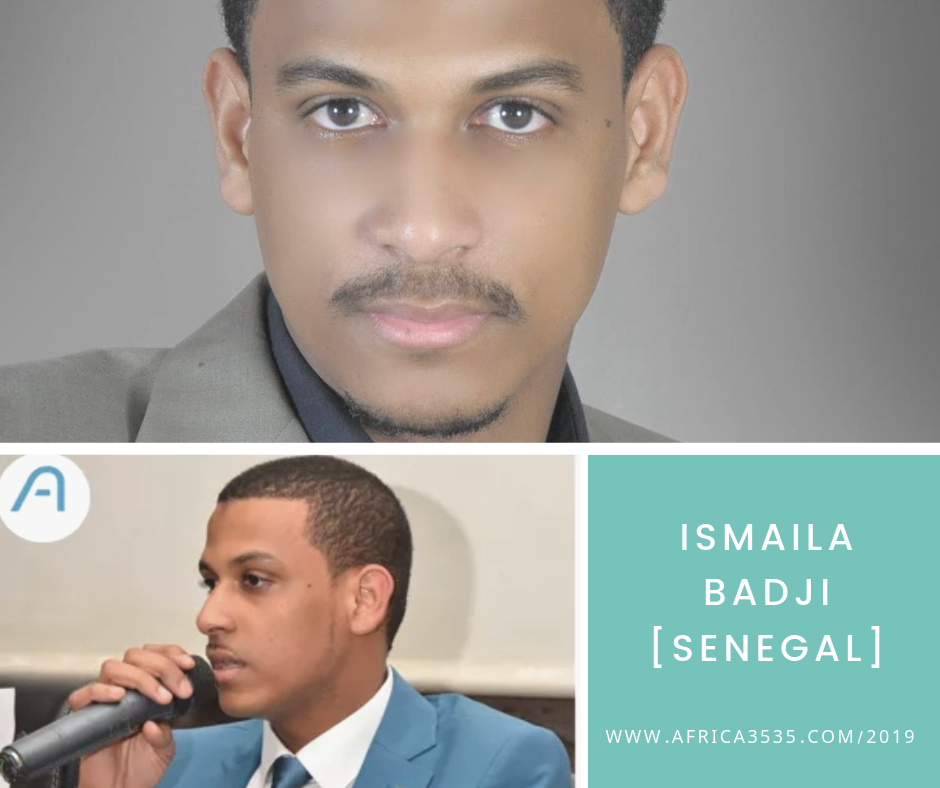 Ismaila Badji aims to revolutionize the mindset of young Africans. Initiator of numerous conferences and initiatives that have reached more than 30,000 young people, it is especially his book "Solutions for African Youth" with more than 15,000 copies sold that makes him one of the most ardent advocates of youth's right and the promotion of African citizenship.
Kayumba Chiwele, 30 years old, Zambia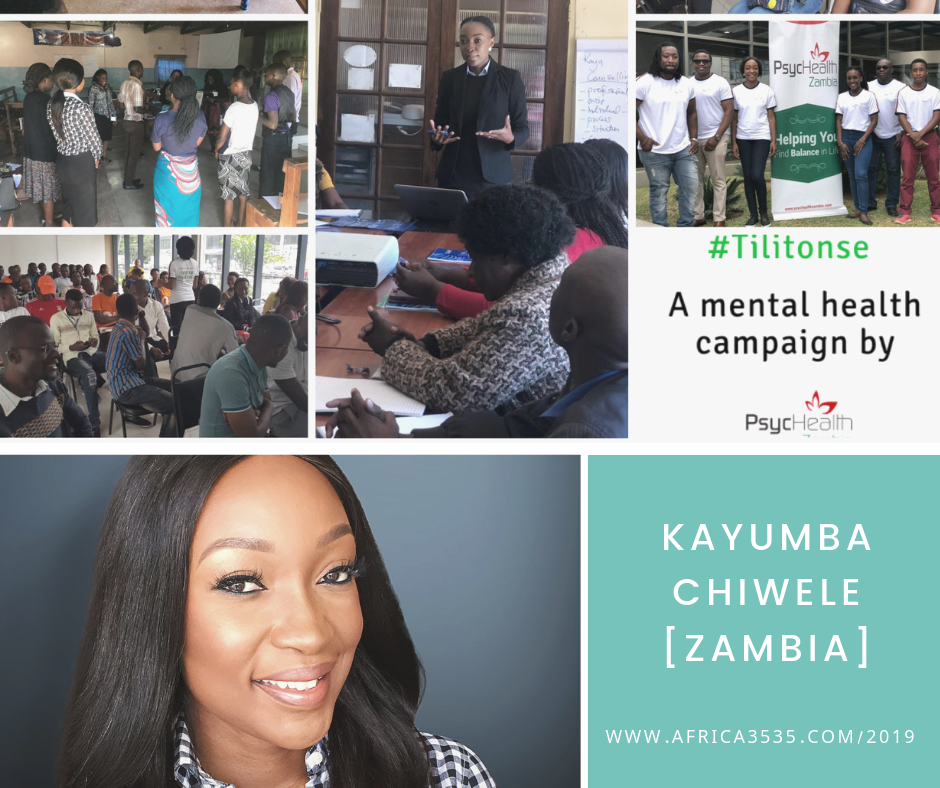 Mental health services are a challenge in Zambia. In 2013, Kayumba Chiwele was rocked by a visit where she was exposed to young girls who had been sexually and emotionally abused with serious mental illnesses. Their burden has since become her burden. She launched « PsycHealth Zambia », a pioneering program that offers non-drug, psychotherapy treatment. In 2019, more than 1,500 women suffering from depression benefited from these services as well as for 130 minors in conflict with the law via a mobile therapy clinic that visits prisons.
Uche Kenneth Udekwe, 31 years old, Nigeria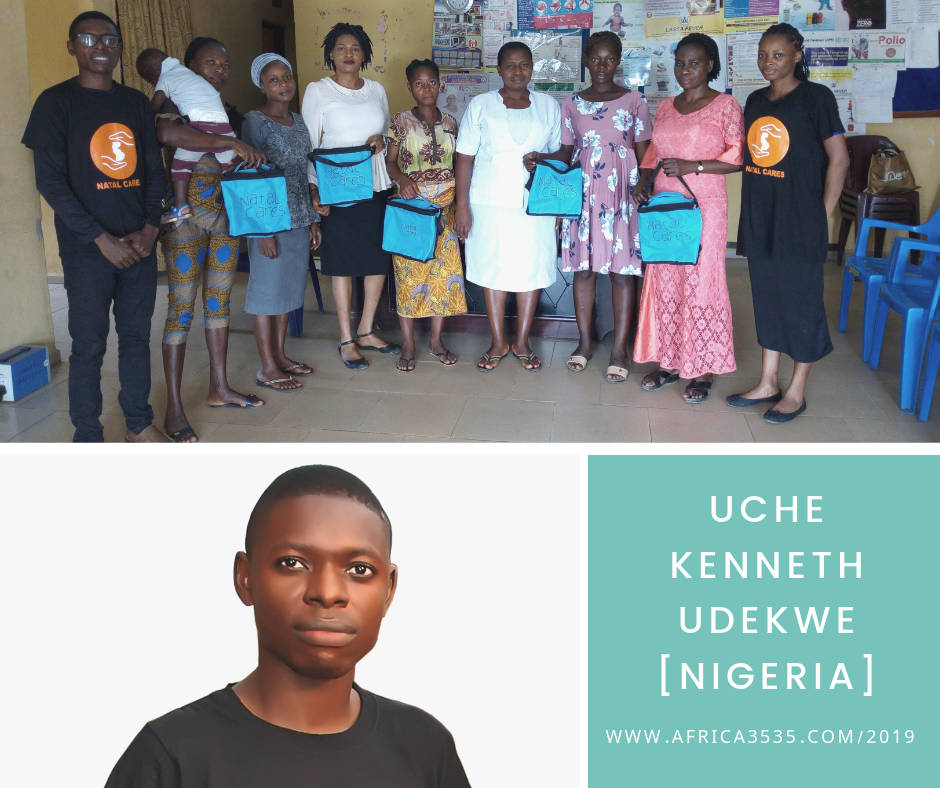 Home births continue to be a striking reality in remote areas of Nigeria. After the death of his childhood friend while giving birth, Uche Kenneth founded « Natal Cares », which makes available very affordable delivery kits including sterile supplies for pregnant women to ensure a clean, safe and hygienic delivery. Last year, it distributed more than 11,000 delivery kits in 26 rural communities in Nigeria, supplemented with health information SMS messages and vaccination reminders.
AGRICULTURE AND AGRI-BUSINESS
Affiong Williams, 33 years old, Nigeria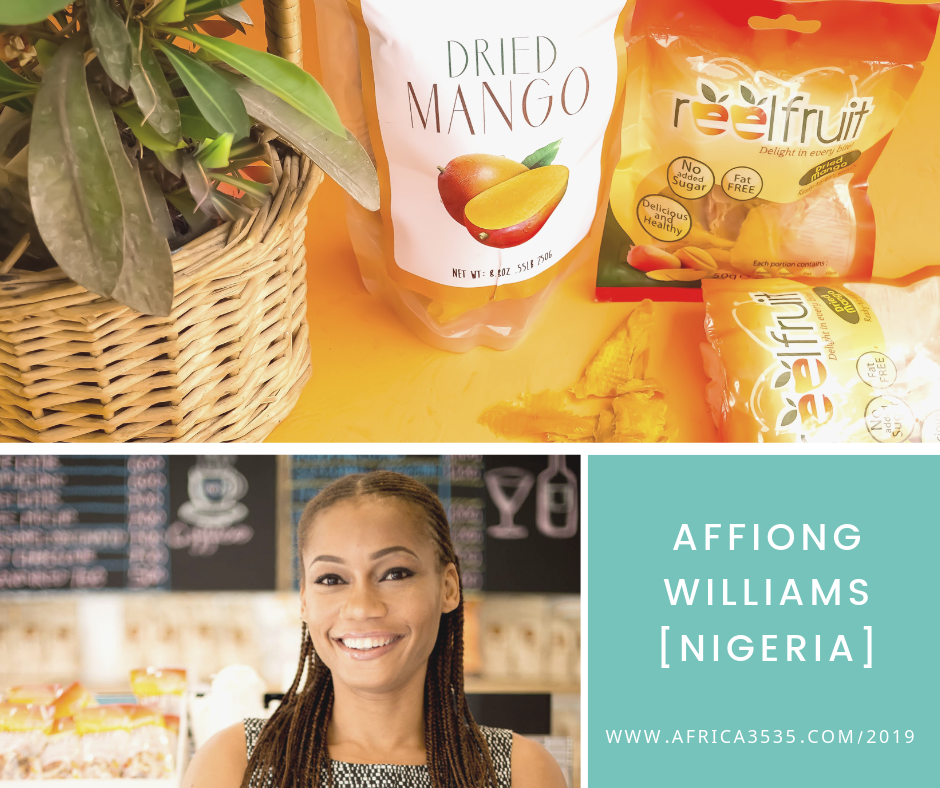 « ReelFruit » is the largest dried fruit company in Nigeria in terms of sales and distribution. Their products are distributed in more than 250 outlets in Nigeria including schools, airlines, hotels and via Amazon.com.
Joseph-Olivier Biley, 26 years old, Côte d'Ivoire
As a child, Joseph-Olivier wanted to be an airline pilot. Years later, Joseph-Olivier is giving African Agriculture a boost by modernizing it. He is the co-founder of « Wefly Agri », a startup that uses drones in agriculture and whose services include area mapping, virtual tour and remote farms management.
Steeve Camara, 27 years old, Côte d'Ivoire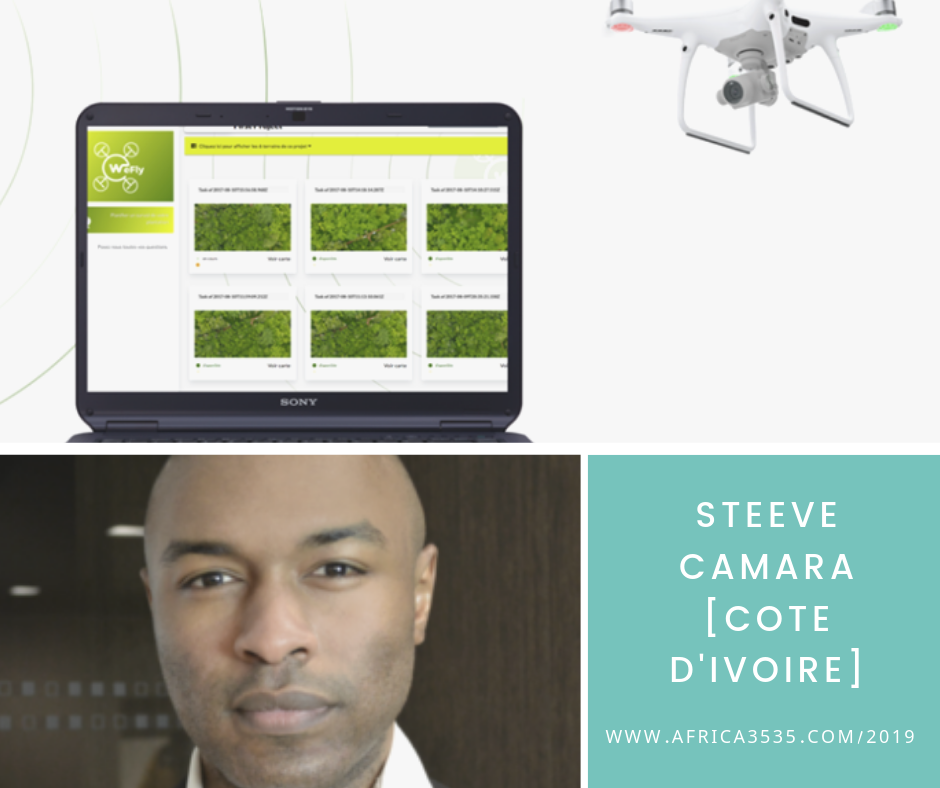 Steeve Camara holds a master's degree in information technology project management from New York University and is the co-founder of « Wefly Agri ». Their novel solution leveraging drones that keeps an eye on your land without you covers more than 12,000 hectares of plantation in Africa.
Palenfo Faïçal Abdoul Wakil, 26 years old, Burkina Faso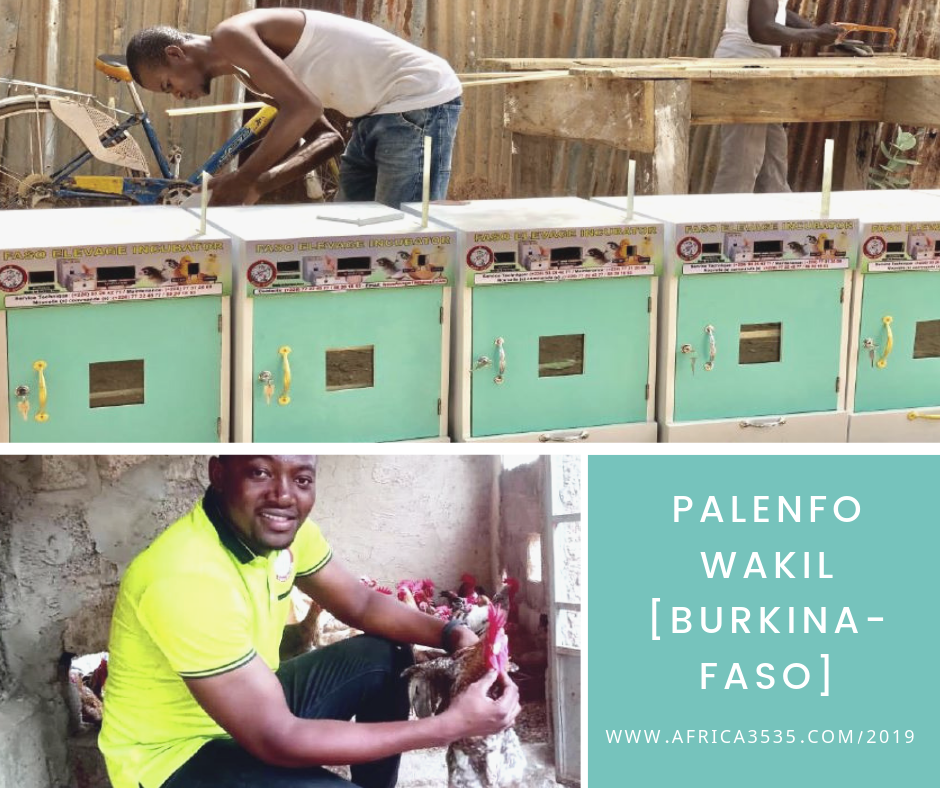 « FASO ELEVAGE » supplies the need to import egg incubators by becoming a pioneering local incubator manufacturer in Burkina Faso. Their incubators can connect to any type of electrical installation (current, battery, solar) and are accessible. In 2018, the company sold 724 incubators in 7 countries and built 11 poultry buildings with a turnover of more than 200 million FCFA.
ARTS, CULTURE AND FASHION
Aline Savadogo, 32 years old, Burkina Faso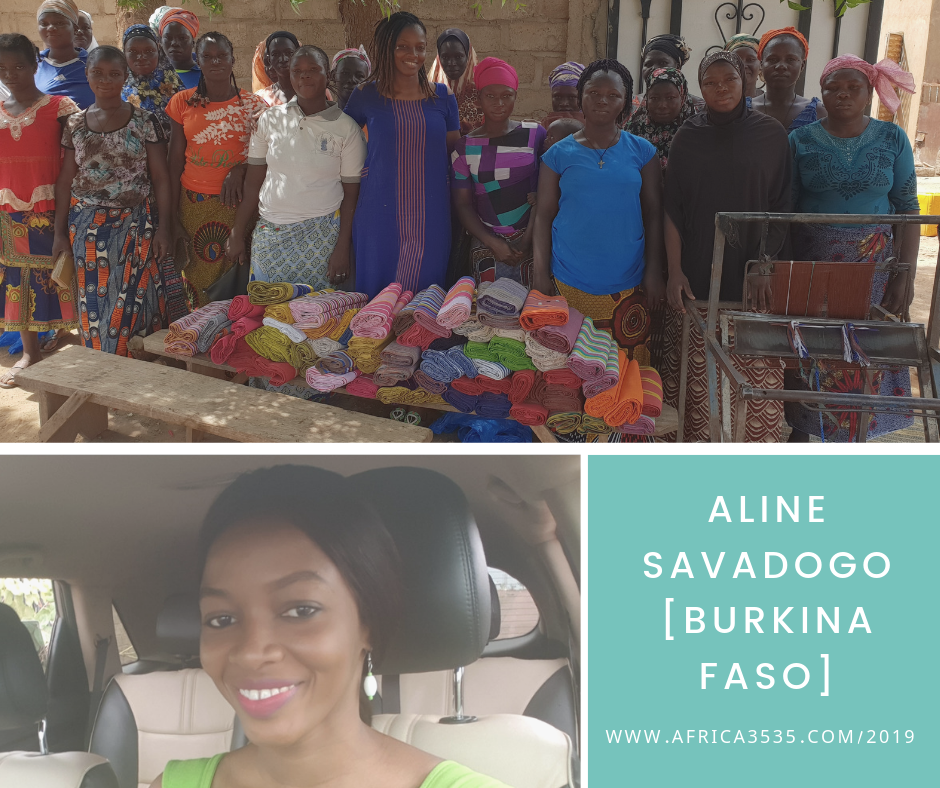 Fela's brand SALUBATA combines African art with modern fashion to create highly sustainable leather products such as shoes, bags, mules and other leather accessories. With 500 recurring paying customers which he deems to be a start, his vision is bigger as he envisions the leather industry as the second highest contributor to Nigeria's Gross Domestic Product after crude oil.
Akinse Fela Buyi, 30 years old, Nigeria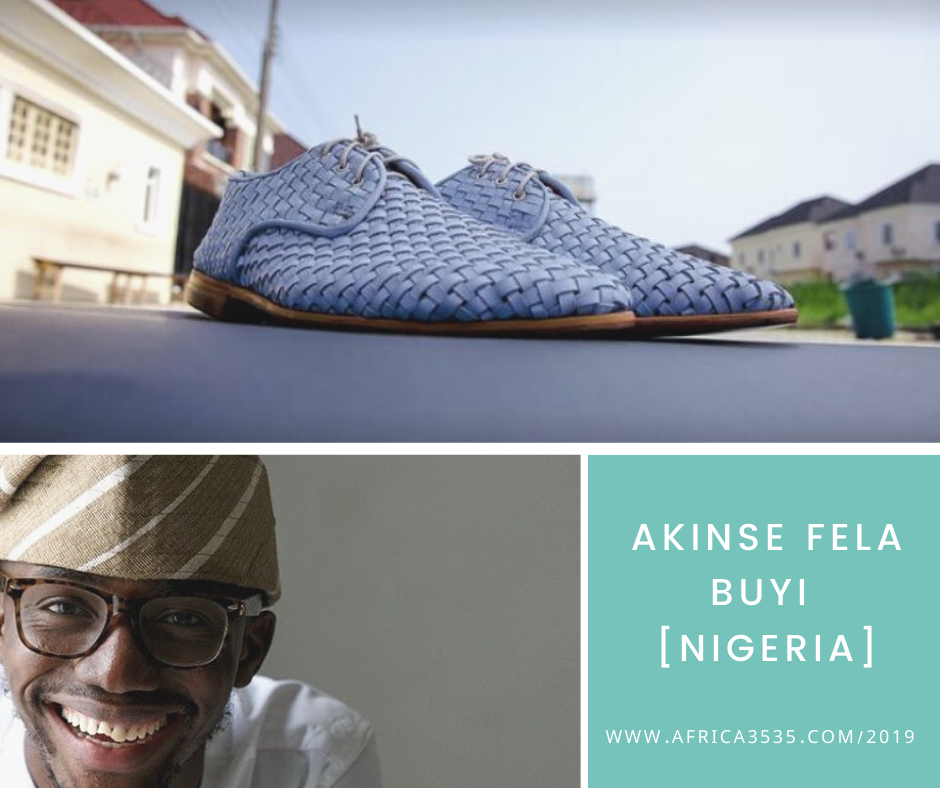 Faso DanFani is the traditional cloth of Burkina Faso, a national treasure. With her Company « DanFaniment », Aline Savadogo has succesfully revisited it: usually very heavy, she gave it a lighter texture and more refined colors to increase its broader appeal. Having started her business in 2017 with 5 workers, the company now has 39 permanent and 12 contract workers.
Kone Lassina, 33 years old, Mali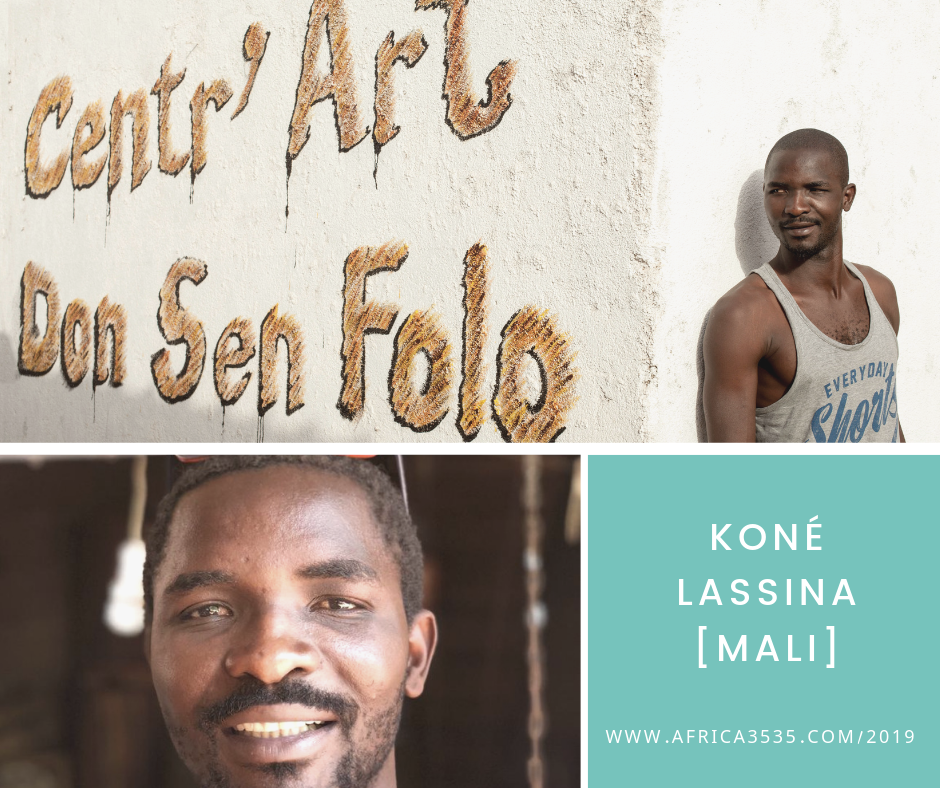 The 24-year old Kone Lassina founded « DON SEN FOLO » association, establishing a 300-seat cultural centre hosting regular events. In 2018, he created the first contemporary dance training programme in Mali for 18 young dancers from different regions of the country. Beyond being an artist himself, he is an advocate for the growth of the cultural and creative industry in his country.
Orphelie Thalmas, 29 years old, Côte d'Ivoire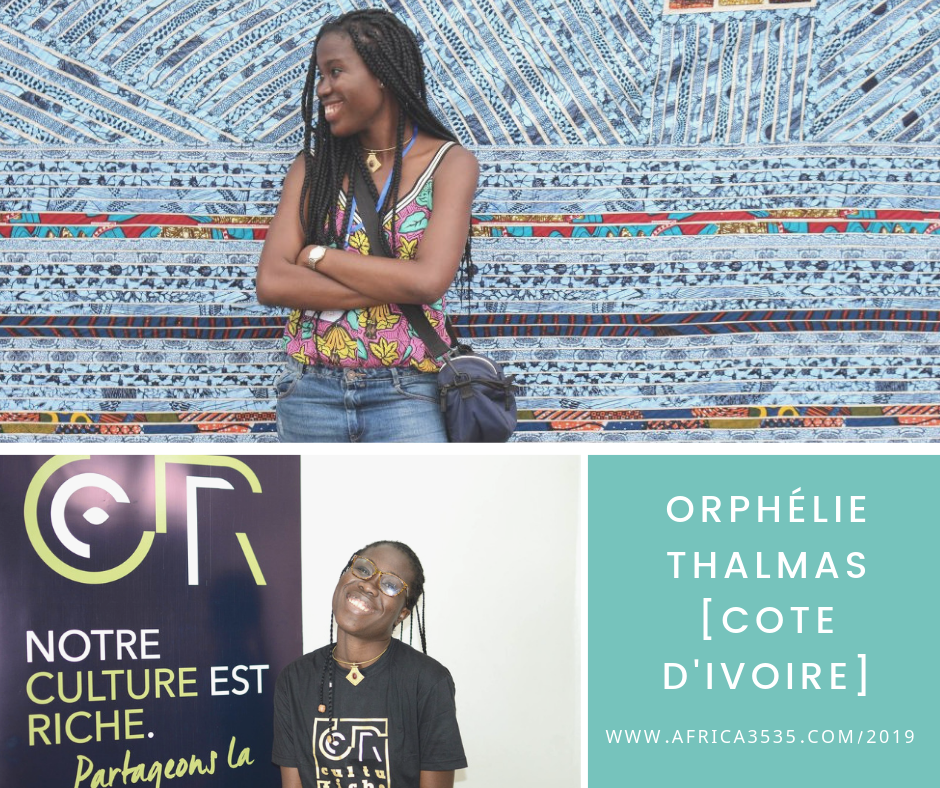 Best blogger of Cote d'Ivoire in 2014, best French-speaking African blogger in 2016, Orphélie is an acclaimed blogger and cultural entrepreneur in her country. She created « Culturiche », an information portal and an agency focused on promoting culture, which has since collaborated with many actors on innovative cultural projects. One of those is the establishment of « Yop Crealab », a hub and space for artists and digital activists to work together in a deprived area of Abidjan.
BLOG AND MEDIA INNOVATION
Ansoumane Mory Mara, 25 years old, Guinea/Morocco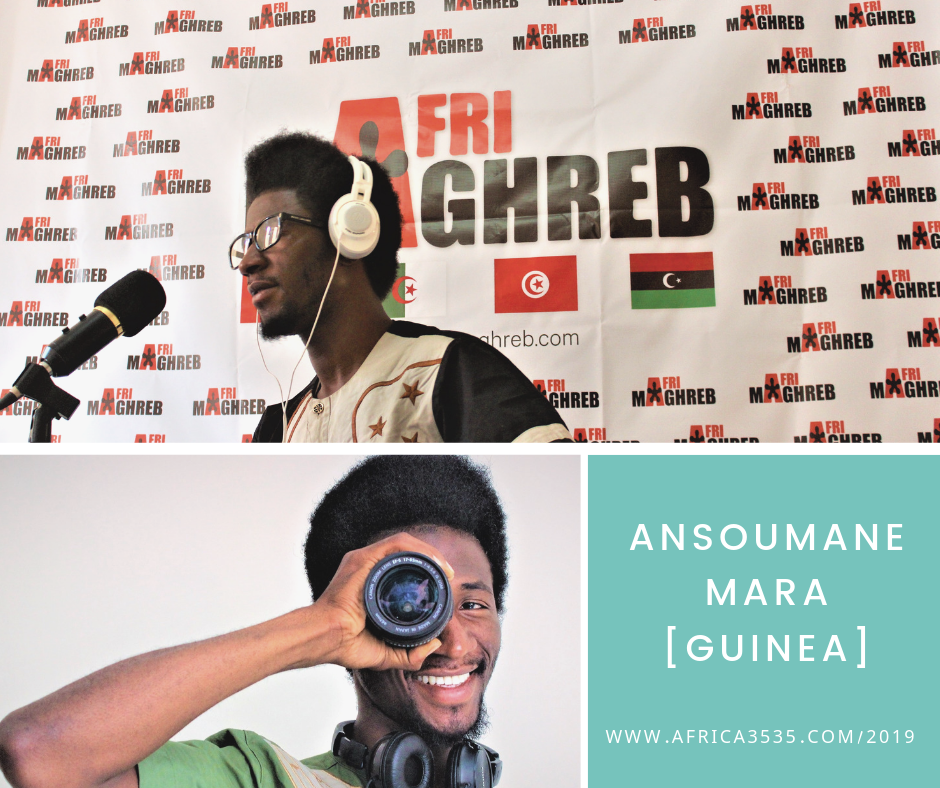 Having noticed the repeated attacks suffered by Sub-Saharan migrants in Morocco, Ansoumane Mara launched a blog and turned into an online media : « AfriMaghreb ». With more than 1,500 unique visitors per day, 126,000 Facebook followers in less than a year and 29 partner associations, « AfriMaghreb » acts like a Swiss knife: it denounces violence, guides new regular migrants and organises social assistance activities for migrants who are homeless and in precarious situations.
Bassératou Kindo, 34 years old, Burkina Faso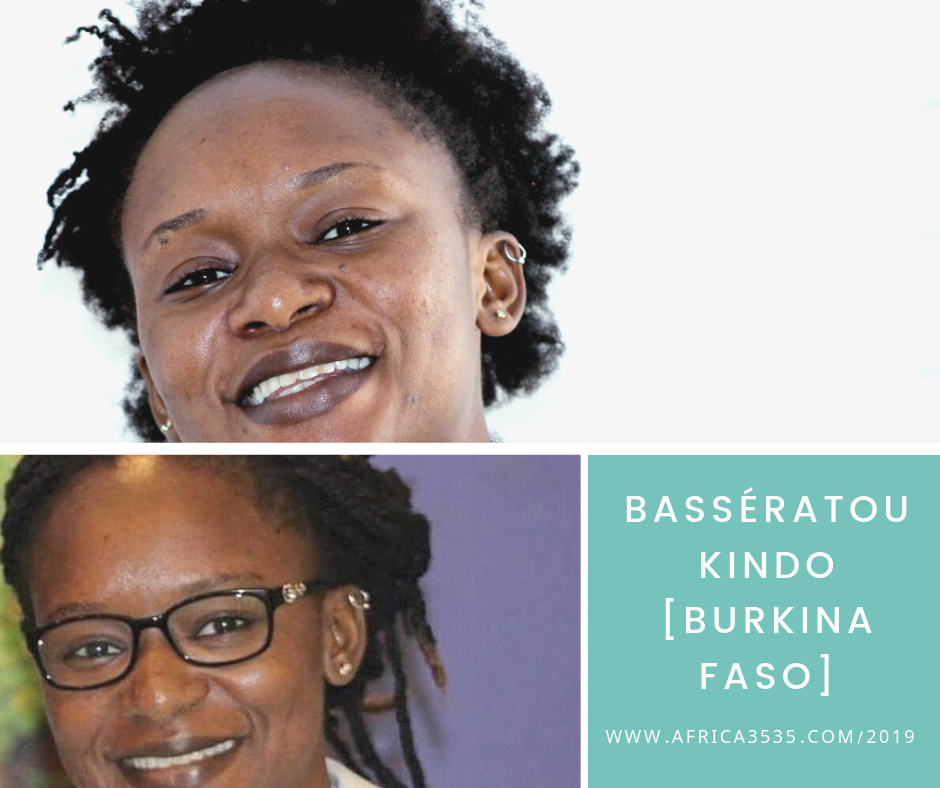 A journalist and blogger from Burkina Faso, Basseratou Kindo is the President of the Association of Bloggers of Burkina Faso. The association, which has about 100 members, get bloggers involved in the defense of freedom of speech and contribute to good governance. The association is particularly involved in "the Presimeter" initiative, a citizen monitoring platform supported by the NGO « Diakonia » that tracks and rates the action of public authorities.
Chedjou Kamdem, 29 years old, Cameroon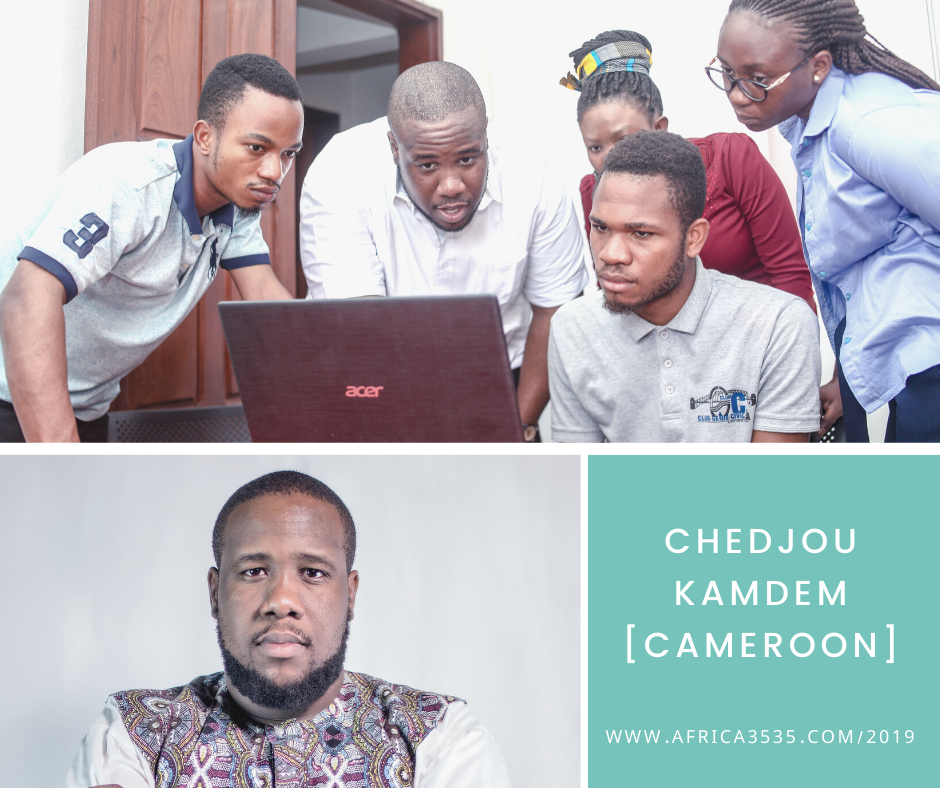 Talk to him of all things digital and Chedjou Kamdem instantly lights up. With "Histoires de CM", Kamdem Chedjou has trained more than 200 young professionals incommunity management in Cameroon in 3 years. His second baby, "CM of Africa" represents a 3000-strong group of Community Managers where he also offers e-learning training on Community Management.
Diene Angelique and Diene Stephane Pierre, 33 and 28 years old, Senegal / Canada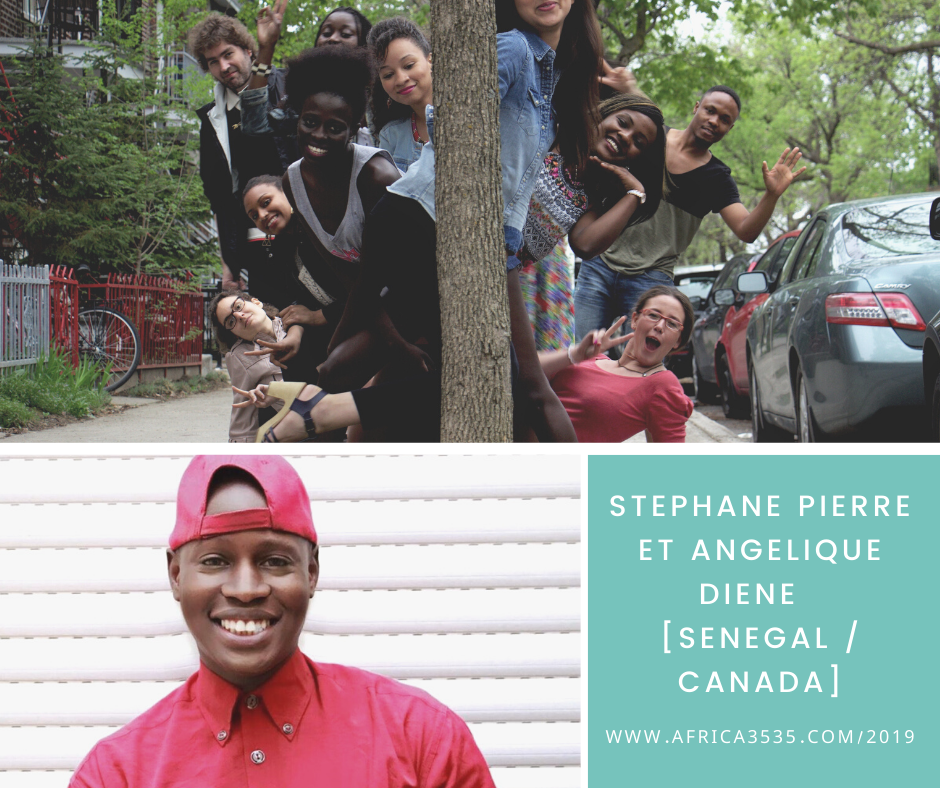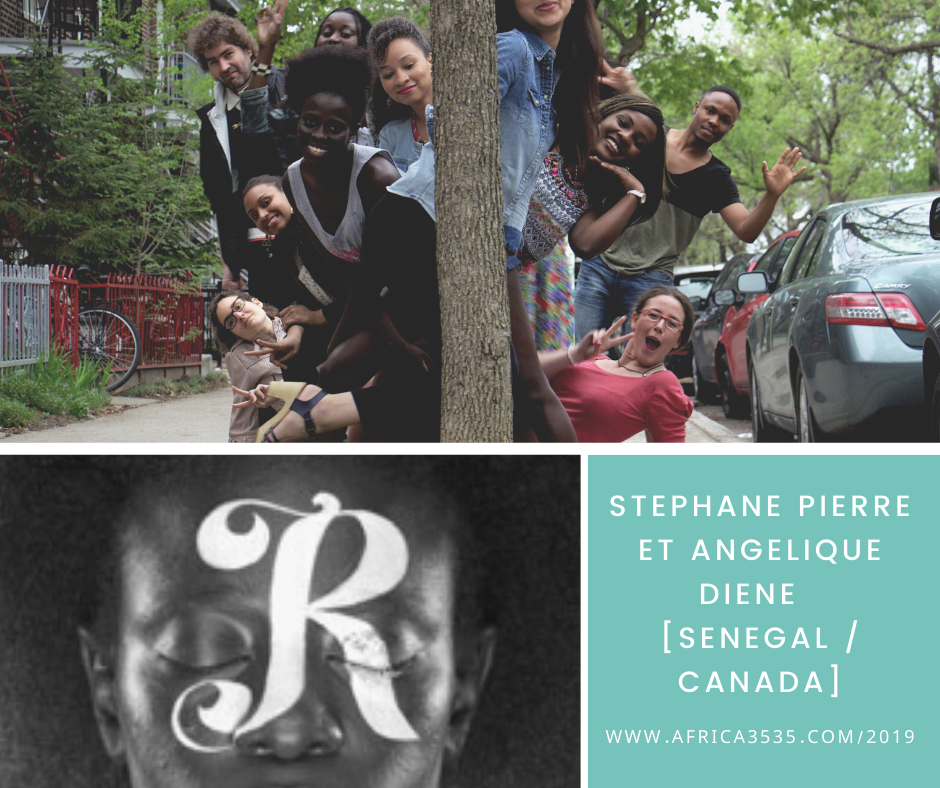 Two fashion enthusiasts, Angelique and Stephane Pierre cofounded "Cheliel", an ethical concept store based in Canada that offers unique pieces of clothing and accessories made of African fabrics, a brand celebrating multiculturalism as a tribute to the African continent and in highlighting Quebec know-how. The artistic union of these two founders also gave life to R Magazine, a webzine on Art.
Milfort Milo, 32 years old, Haiti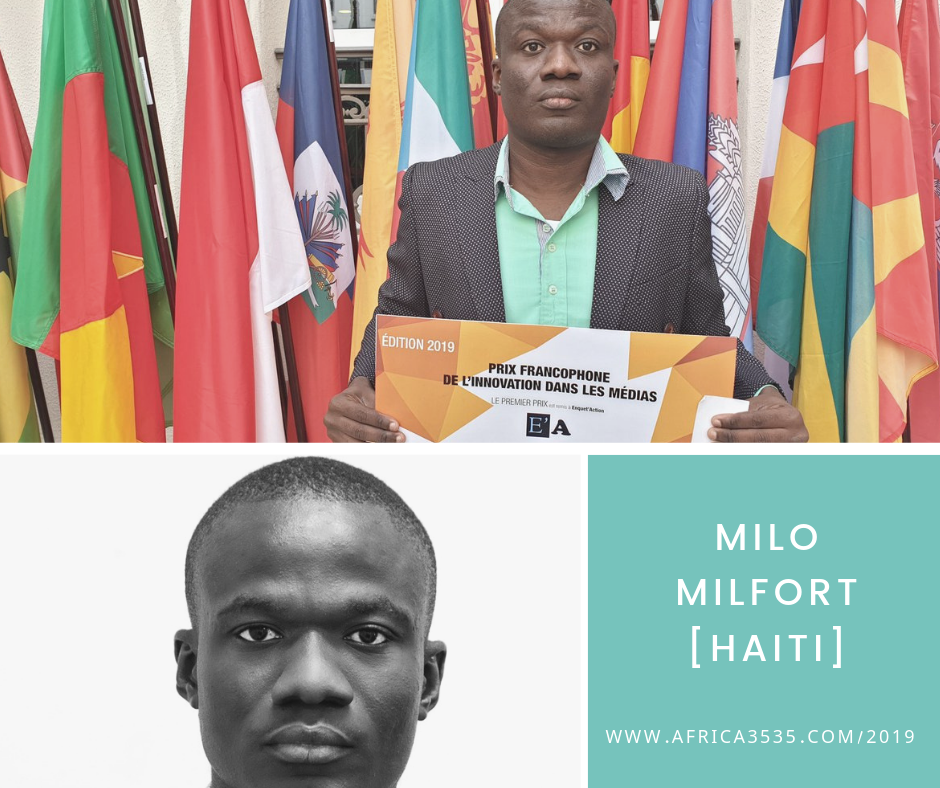 « ENQUET'ACTION » is a unique online media that does investigative journalism in Haiti. In two years, more than 15 investigations have been carried out related to neglected or poorly treated social issues that affect Haitian society. In 2019, this media led by Milfort Milo won the Francophone Media Innovation Award.
EDUCATION
Daraja Haidara, 27 years old, Mali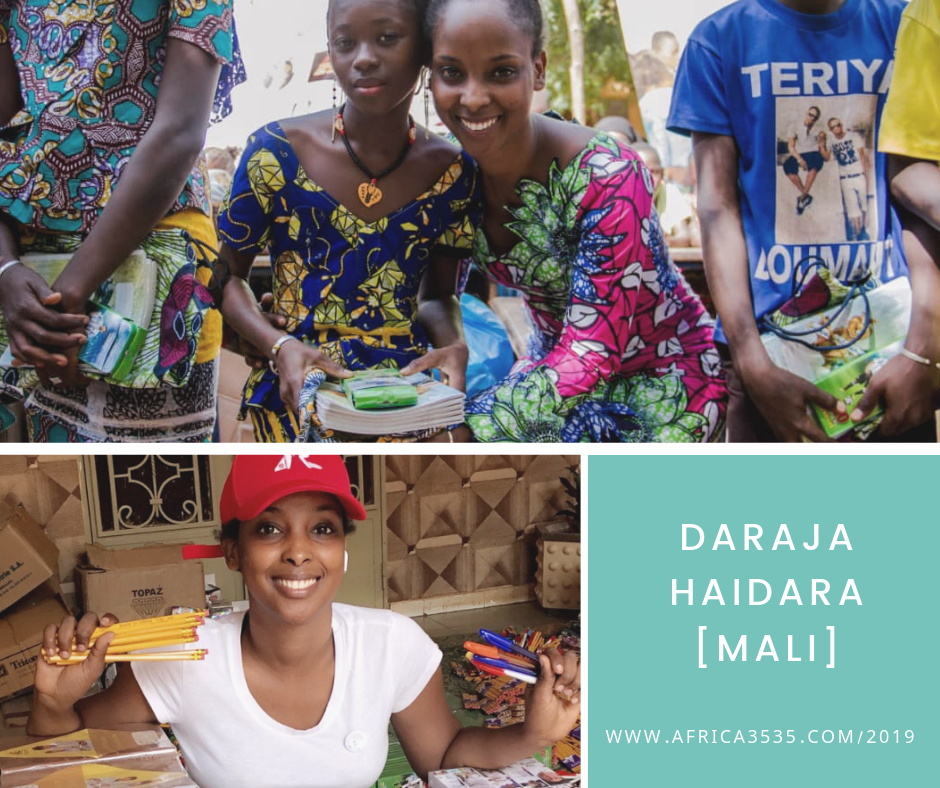 Founded in 2010, « Al Barka-AIDE Mali » is a humanitarian association that facilitates the sponsorship of thousands of needy children. Thanks to funds it raises, the Association contributes to the schooling of hundreds of poor children, provides thousands of children with school kits each academic year and facilitates access to birth certificates and free eye consultations for children in difficult situation.
Izzy Obeng, 26 years old, England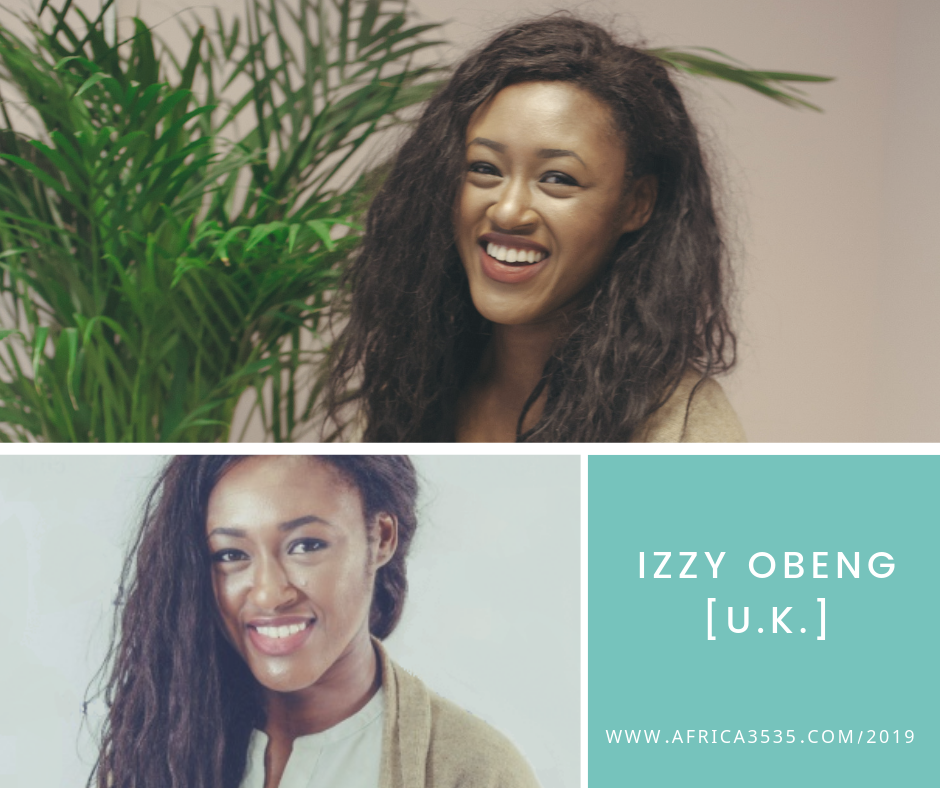 The only black woman in a class of 400 graduates, Izzy Obeng quickly became interested in opportunity equality. She launched « STARTUP54 (SU54) », an apprenticeship program designed to teach entrepreneurial skills to youth and women in minority communities in England. The programme has benefited 120 young people in business and wants to reach 5,000 young people by 2021 in England, Ghana and Nigeria.
Oscar Obiora Udebuana, 25 years old, Nigeria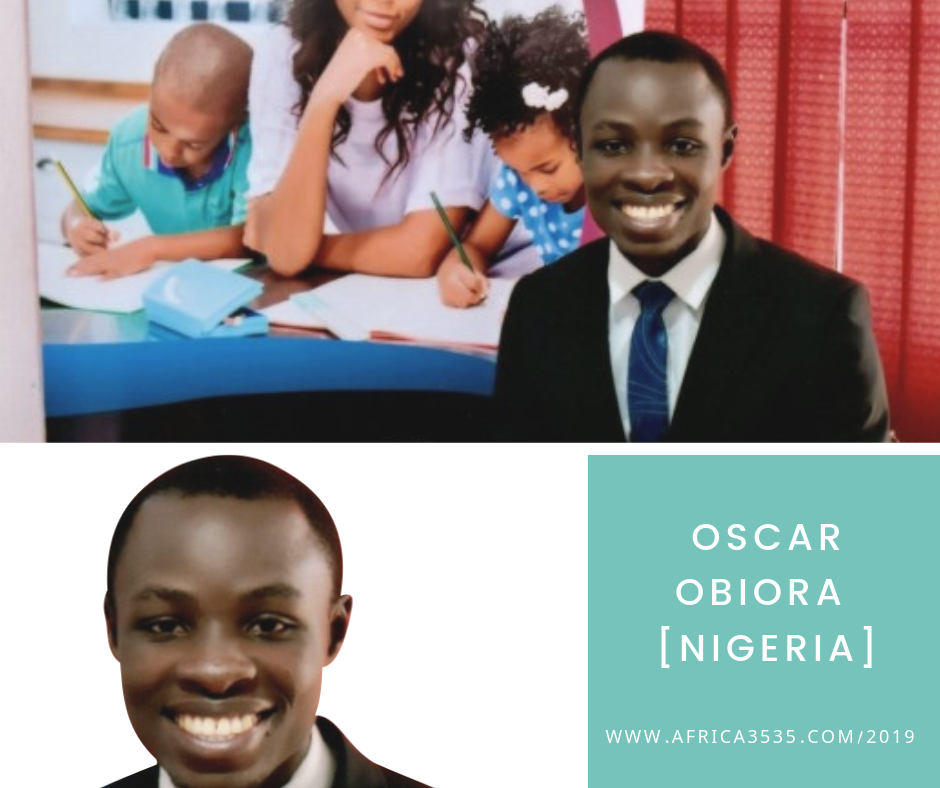 EduPoint is an innovative online platform that connect students with verified local teachers who deliver one-on-one lessons in any subject, skill or exam, to help students or learners meet their learning expectations. EduPoint currently brings together 3,000 qualified teachers for more than 30,000 hours of lessons delivered.
ENTREPRENEURSHIP (two laureates ex aequo)
Chidi Nwaogu, 29 years old, Nigeria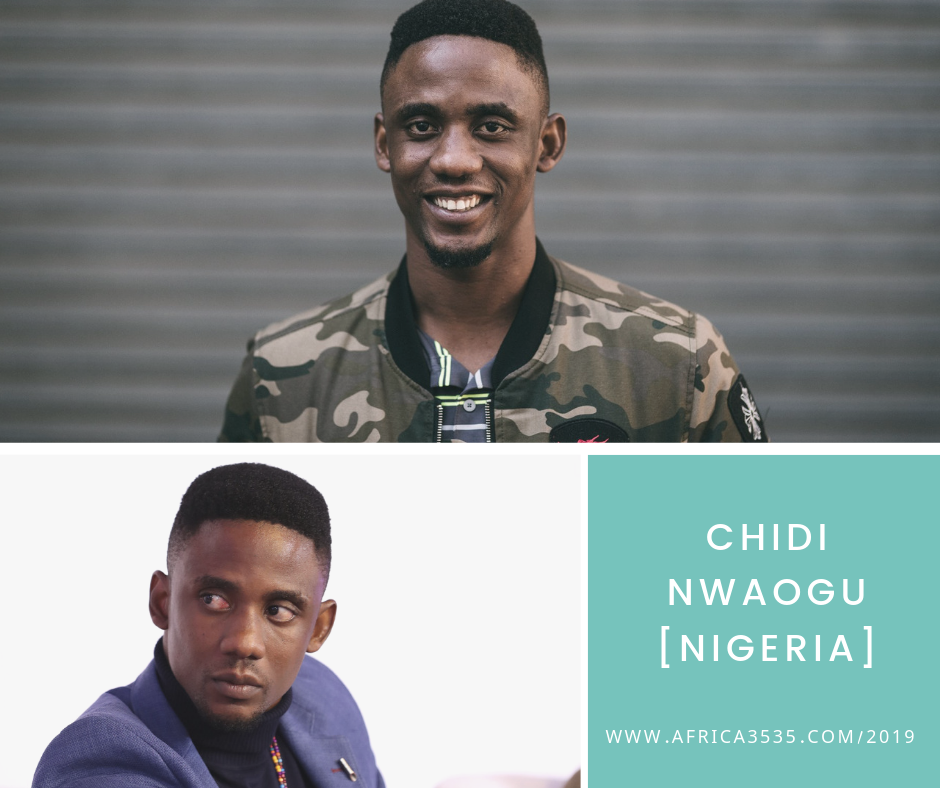 The creative sector in Africa is struggling to achieve online sales on international platforms. To help solve this, Chidi Nwaogu has created « Publiseer » a digital content distribution platform that allows independent African writers, musicians and filmmakers to publish and monetize their creations to more than 400 partners (Amazon, Google Play, Apple Store, Spotify, Deezer) with just a few clicks. 2,100 African artists are listed for more than $100,000 in revenue generated.
Jorge Appiah, 30 years old, Ghana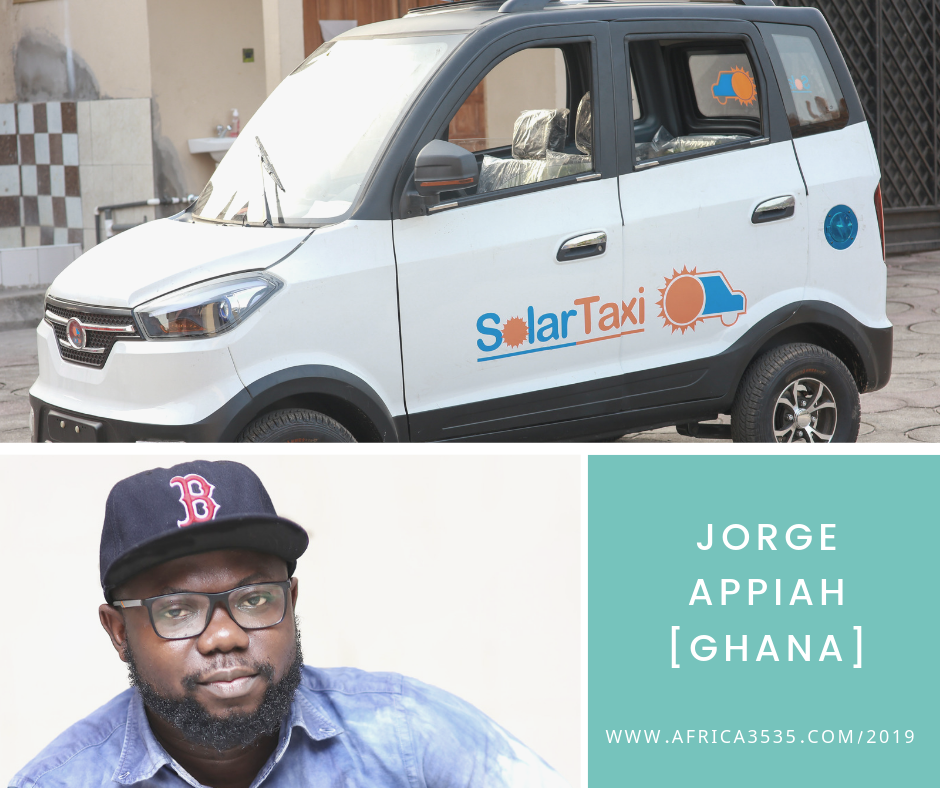 Jorge Appiah founded « SolarTaxi Ghana », a company that assembles in Ghana adapted solar vehicles (tricycle, scooter and van), a USD 1.2 million project for which he secured funding. He draws his early inspiration from « KUMASI HIVE », a technology innovation space he created in 2016 that supports startups and has since trained 5,000 young graduates, unemployed and underemployed, to acquire skills in technology (Biotech, Blockchain, VR/AR, etc.)
Kimberly Addison and Priscilla Addison, Ghana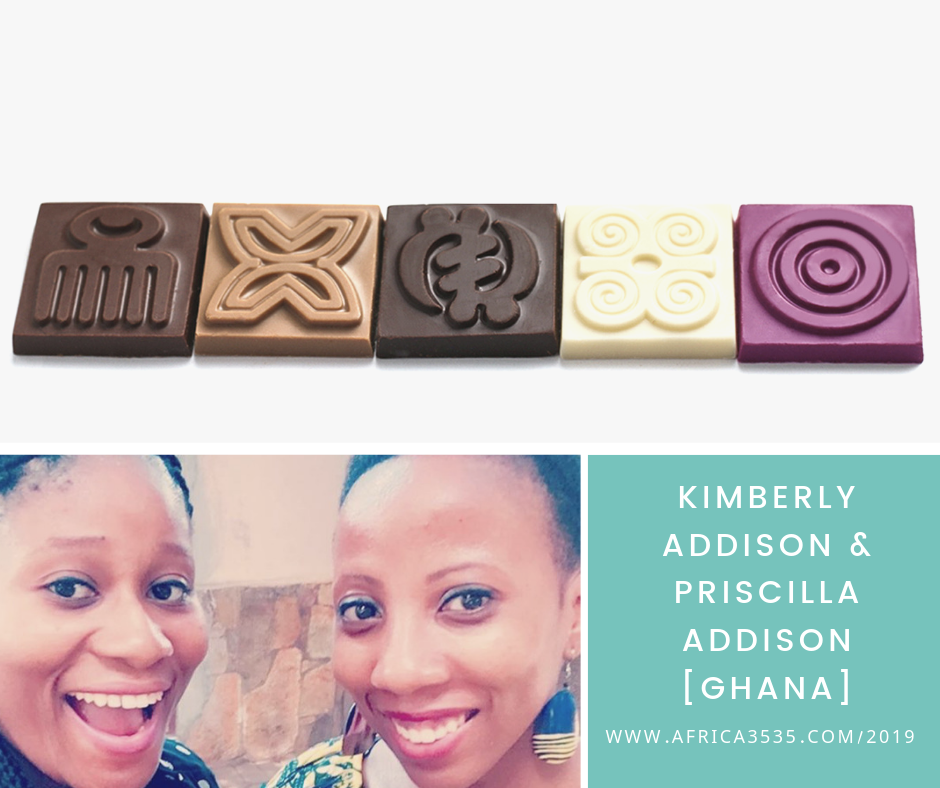 The Addison sisters are the founders of « '57 Chocolate », an African brand of premium and high-quality chocolate. Born in Accra, « '57 Chocolate » is a tribute to 1957, the year of Ghana's independence when prevailed a spirit of "everything is possible". Their distinctive packaging includes adinkra symbols, of the Akan ethnic group, whose graphic language represents diverse concepts (leadership, beauty, humility, strength et al). Every week, more than 1,000 tablets are sold in Ghana and abroad.
Saif Eddine Laalej, 22 years old, Morocco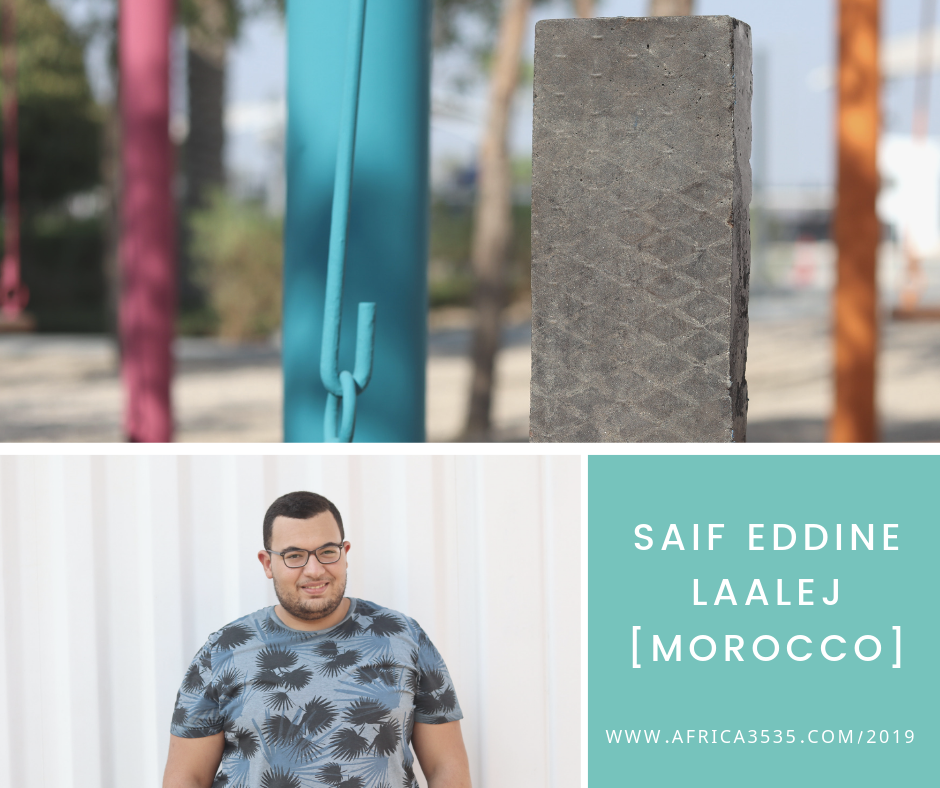 In Morocco, more than 550,000 tonnes of plastic waste are generated each year, of which only 12% is recycled. The start-up « Zelij » has developed a process that transforms plastic waste into eco-friendly and durable paving stones and floor slabs that are twice cheaper to produce and thrice more resistant than ordinary materials. Since 2018, the startup has recycled more than 100 tons of plastic waste, created 5 direct jobs and more than 100 indirect jobs in the collection and sorting process.
MEDIA ENTREPRENEURSHIP
Fatoumata Coulibaly Koné, 34 years old, Cote d'Ivoire/Burkina Faso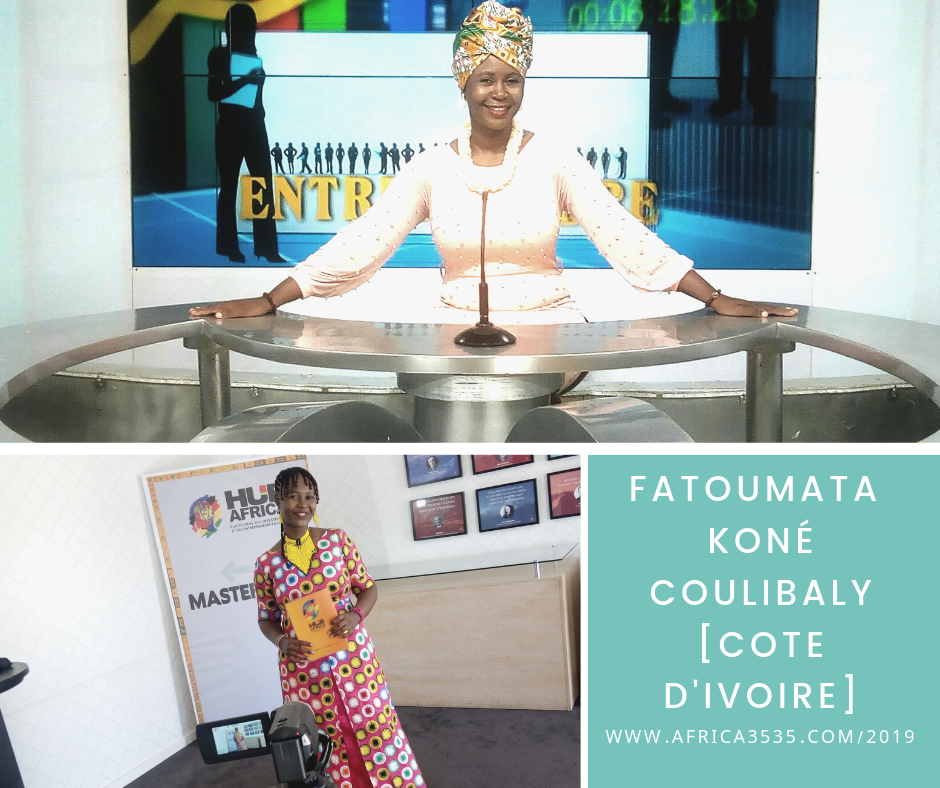 « Afribusiness TV » is a digital media created to promote African entrepreneurs and their ventures, through video-based content to increase their visibility and generate public interest. Based in Burkina Faso, which has more than 16,000 companies, the media has highlighted the journey or success stories of nearly a hundred entrepreneurs.
John Haule, 22 years old, Tanzania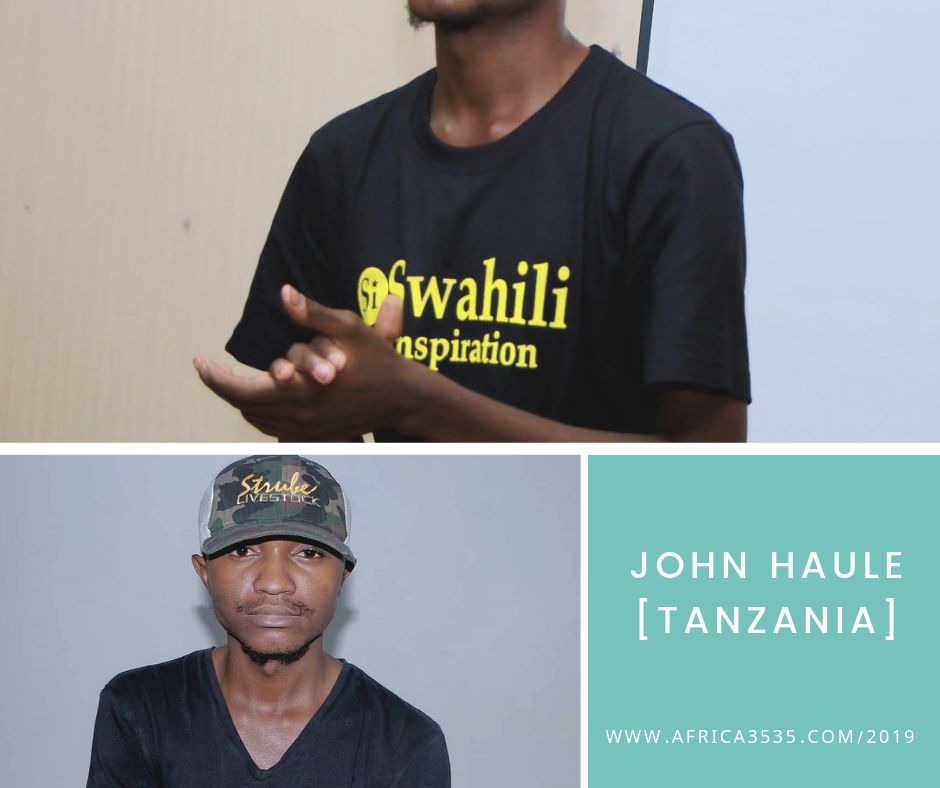 Tanzania has a population of 55 million, and 90% of them speak and understand the Swahili language. « Swahili Inspiration » is a digital media that uses Swahili to inspire and inform the underserved population in digital content through news, opportunities and success stories. A growing media that reaches more than 20,000 people a day.
Mensah Thierry Koffi, 30 years old, Cote d'Ivoire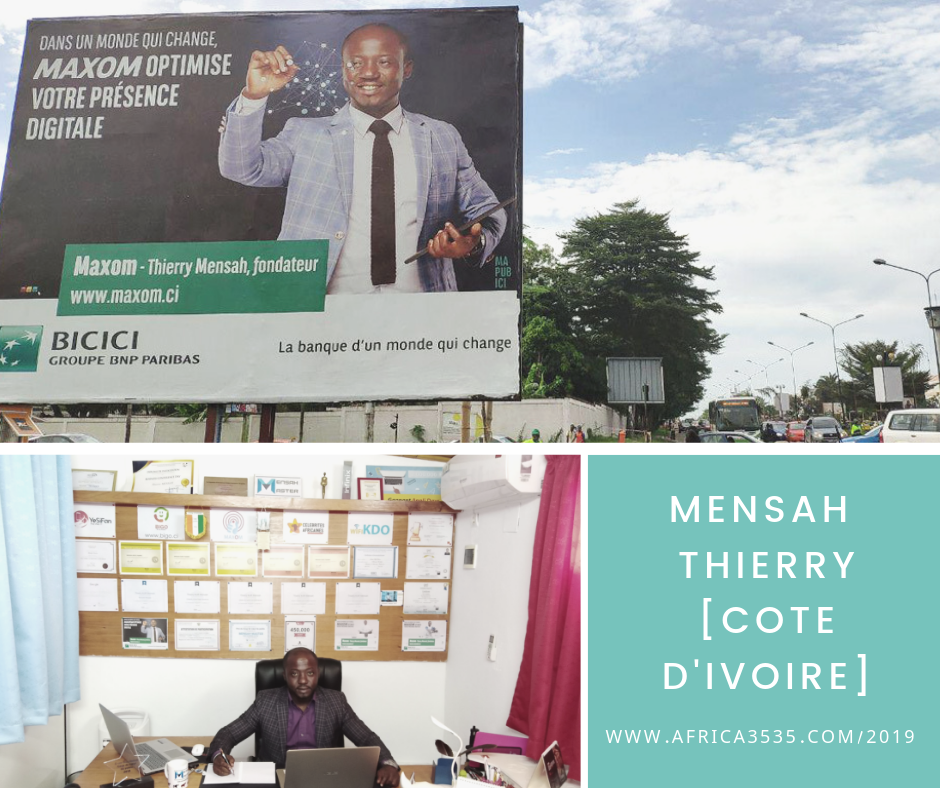 « Celebrites.africa » is a platform to gossip about your favorite African celebrities on the web. The site attracts more than 5,000,000 views and its Facebook page can boasts of 193,000 followers. Led by Mensah Koffi, this young digital prodigy has since supported many African celebrities in building their digital presence.
TV AND RADIO HOST
Camille Segnigbinde, 30 years old, Benin
A former journalist and economics specialist in a national newspaper "La Nouvelle Tribune", Camille Segnigbinde is making a small revolution in Benin with www.afriquevisionmedia.com, a multi-digital web and mobile platform (web tv, web radio, online media ) dedicated to entrepreneurship and innovation in Benin and Africa where he does not hesitate to often officiate in front of the small digital screen.
Chinemenma Umeseaka, a.k.a. Chichi, 35 years old, Nigeria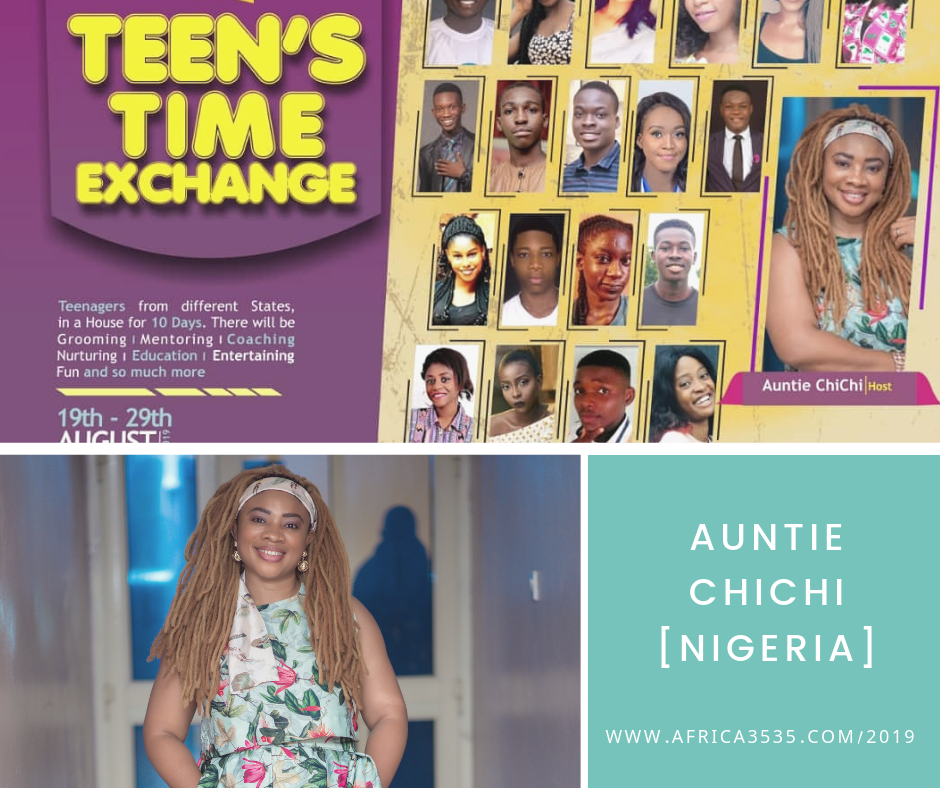 Known as "Auntie Chichi," Chichi is widely recognized in Nigeria as a coach, mentor, counsellor and adolescent therapist. Her commitment to giving teenagers a better lifestyle is reflected in her work as the host of her TV show "TEEN's TIME EXCHANGE" and radio show "TEEN'S TIME WITH CHICHI" broadcasted nationally. Chichi also serves as special advisor on teen issues for the State of Abia in Nigeria.
Daniel Githinji Mwangi a.k.a. Mbusii na Lion, Kenya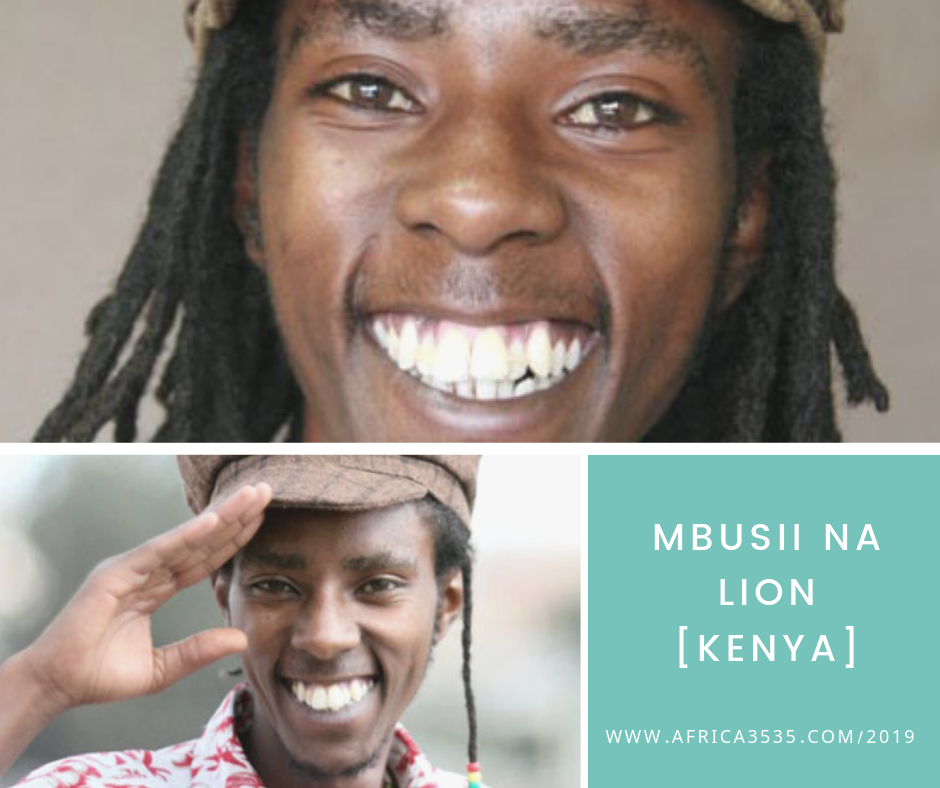 Mbusii na Lion is a Kenyan radio host, a national reference. His shows on radio Jambo owe their great popularity in part because he speaks in "sheng", a local slang particularly popular with young Kenyans. His motivational messages do not go unnoticed.
Serwaa Amihere, Ghana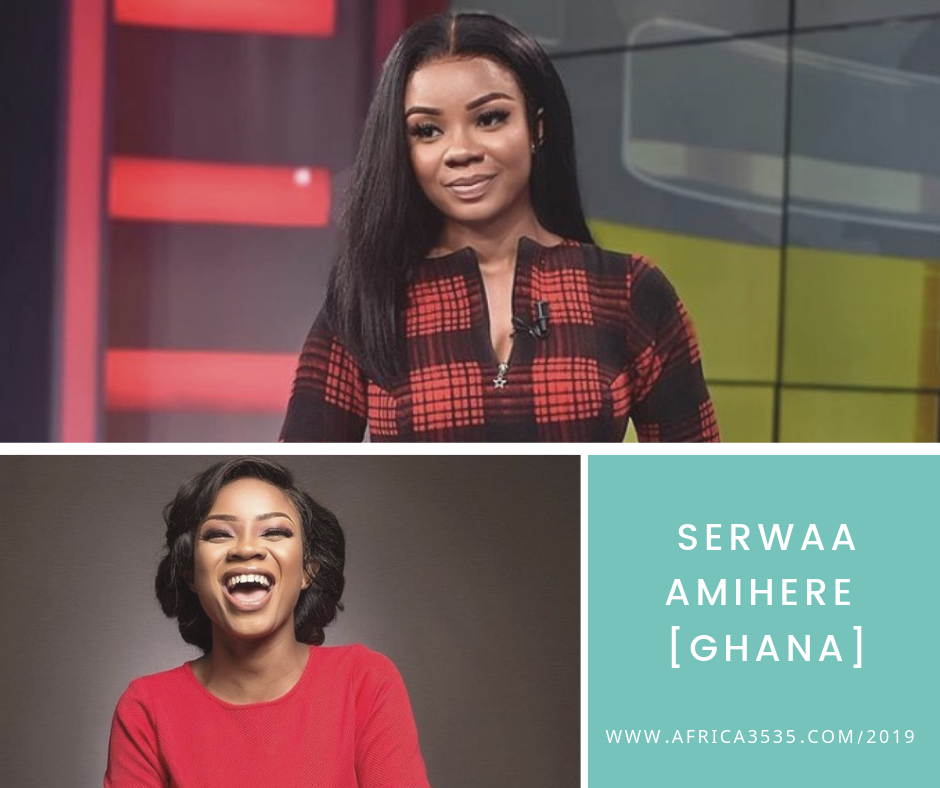 Serwaa Amihere is a Ghanaian producer and TV presenter who works for GHOne TV. Having started out as a producer of the news program "State of Affairs", she officiates as a newscaster and hosts Cheers, a sports program. Her presence and charm make her one of the most prominent TV host in her country.
PUBLIC SERVICE
Isabelle Vovor, 30 years old, Côte d'Ivoire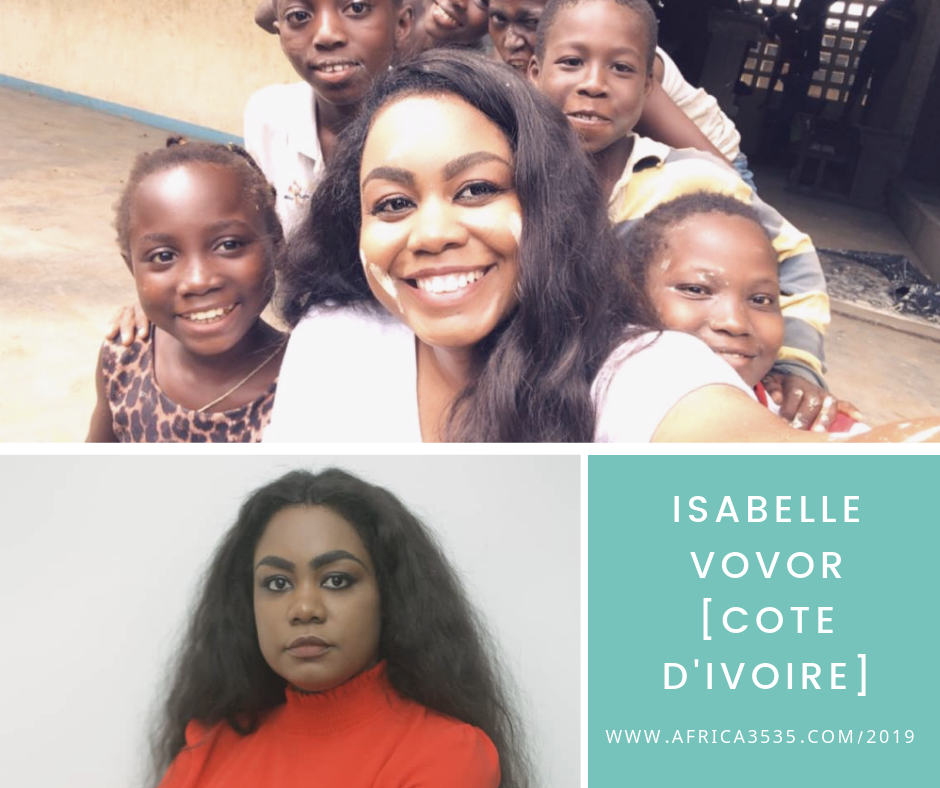 Isabelle Vovor is Head of Public Relations and External Communications at the Ministry of Youth Promotion and Youth Employment in Côte d'Ivoire. She is also the President of the «Acting Together Network» through which she carries out social and civic actions to positively impact her community. Her responsibilities and distinctions inspire many young people in her country.
Lolan Sagoe-Moses, 28 years old, Ghana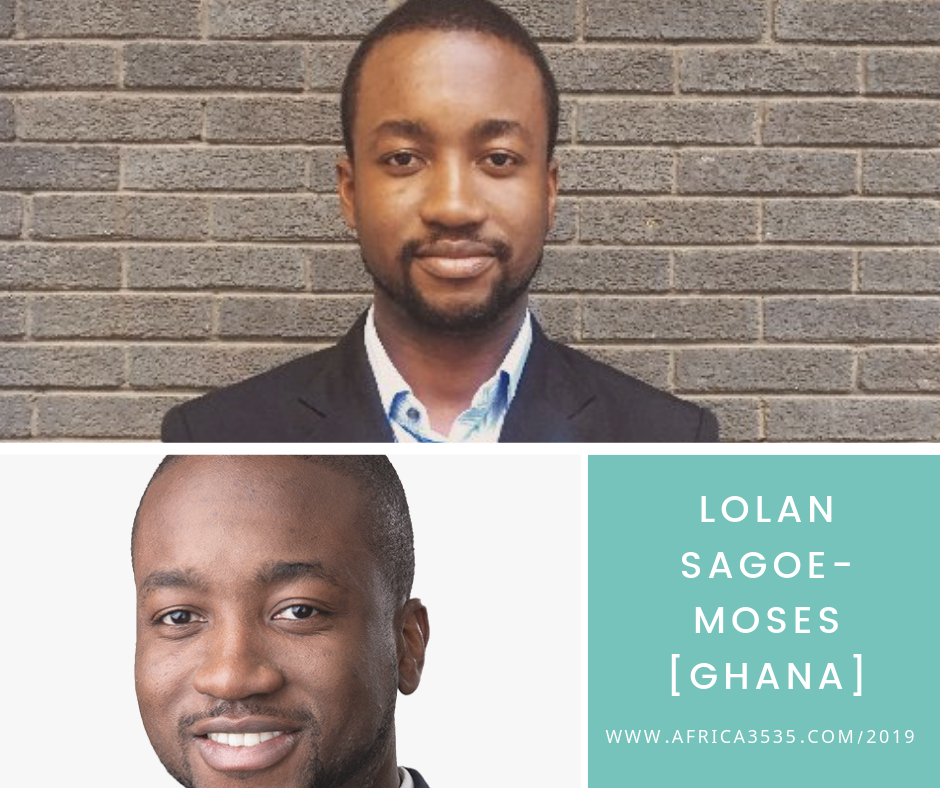 Lolan Sagoe-Moses is an open governance activist. He is the Research Lead for Odekro, a leading civic organization that promotes transparency and accountability in the ghanaian governmental structures. Lolan spearheaded efforts to improve freedom to information in Ghana by creating the first comprehensive assessment of the 6th Parliament of Ghana's 4th Republic. In 2016, he was lead applicant in the case Lolan Sagoe-Moses & Six Others vs. Minister of Transport & Attorney-General which affirmed the Right to Information in Ghana (an alleged corruption in the branding of public buses). This case was recently included in Columbia University's "Freedom of Global Expression" project.
Stévy-Ferry Wallace, 32 years old, Benin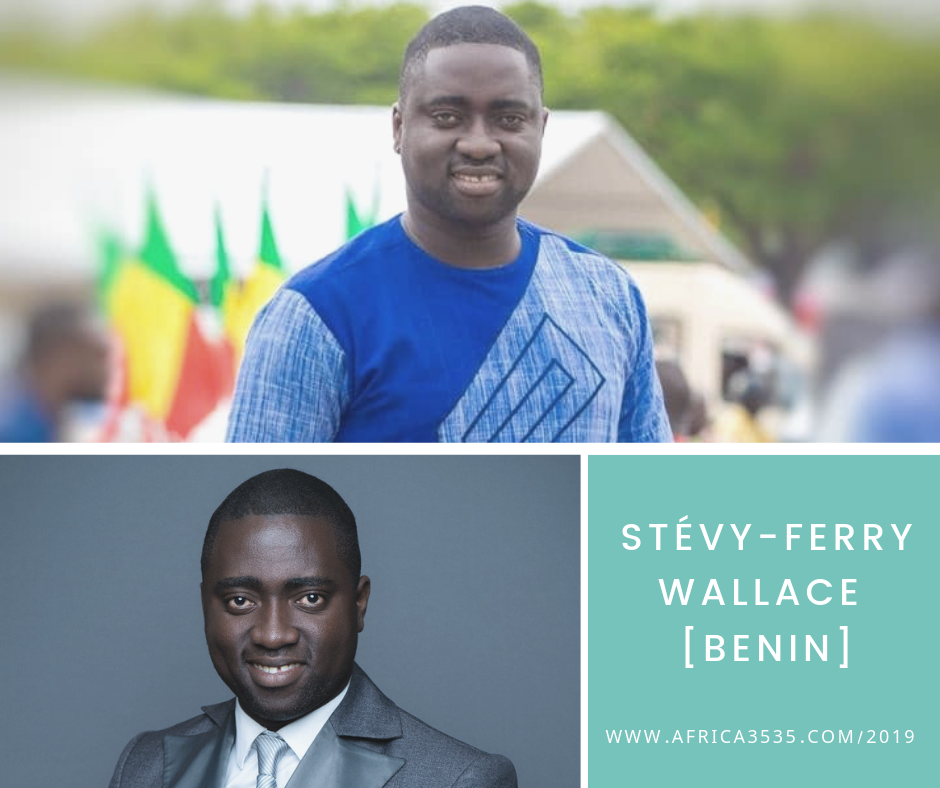 Since 2016, Stévy-Ferry Wallace has been in charge of the digital communication of the Presidency of the Republic of Benin and in building the country's brand online. This passionate expert works to deeply integrate digital uses into the institutions of the country. Some examples include the implementation of the platform "eVISA Benin" which allows any foreign citizen to obtain a visa to Benin online as well as the initiation of "askgouvbenin" online sessions which are interactive sessions between Internet users and Benin authorities to better understand public action.
TECHNOLOGY
Djafalo Esso Dong, 26 years, Togo/Benin
Chronchain helps anyone digitize and manage all their valuable assets as a certificate driven by a protocol developed on blockchain and artificial intelligence. Beyond business, Esso Dong envisioned its solution being deployed to fight for example against the anarchy of land ownership in Africa and more generally to support the sustainable development goals.
Funkola Odeleye, 34 years old, Nigeria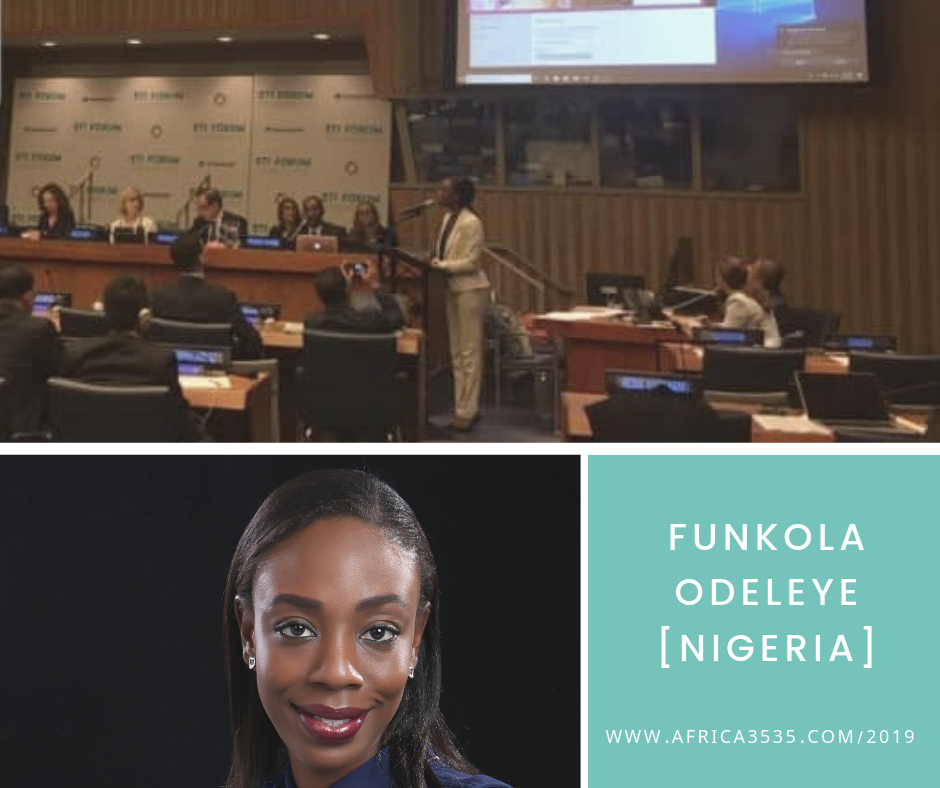 99% of Nigeria's 37 million SMEs are unregistered and indicate access to legal services and their high cost as a major reason. Funkola Odeleye founded « DIYLaw », a technology platform that provides free legal and business resources to Nigerian entrepreneurs and access to affordable legal services such as remote incorporation, automated legal documents and advisory services. To date, more than 600 companies registered through her and over 5,400 entrepreneurs have benefited from legal services provided.
Dzembouong Gyslain, 35 years old, Cameroon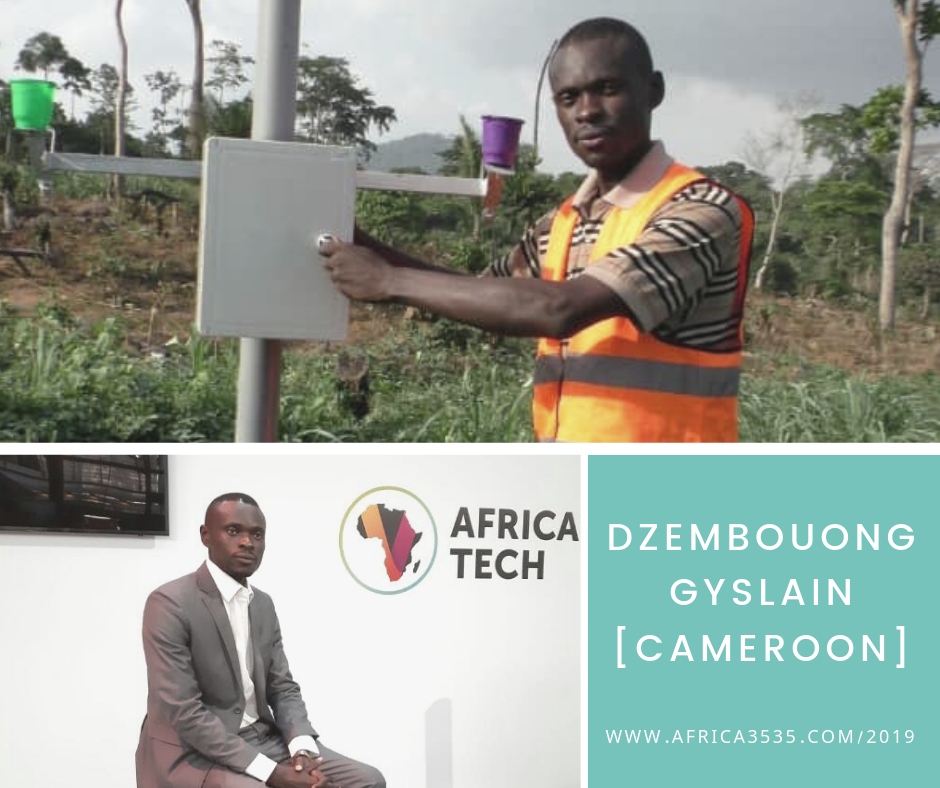 Trained in South Korea, Erik Tiam wants to eliminate hunger and poverty in Africa with « AGROPAD ». AGROPAD gives farmers the opportunity to use their mobile phones to water their plantations remotely without internet: it is a smart, autonomous irrigation automation, with solar energy system and controllable with a mobile phone via SMS or a mobile app. Having already demonstrated his technology on several farms, he won the award for the best innovative project in Cameroon in 2018 and hopes to deploy his solution internationally.
Mansata Kurang, 32 years old, Gambia/ United Kingdom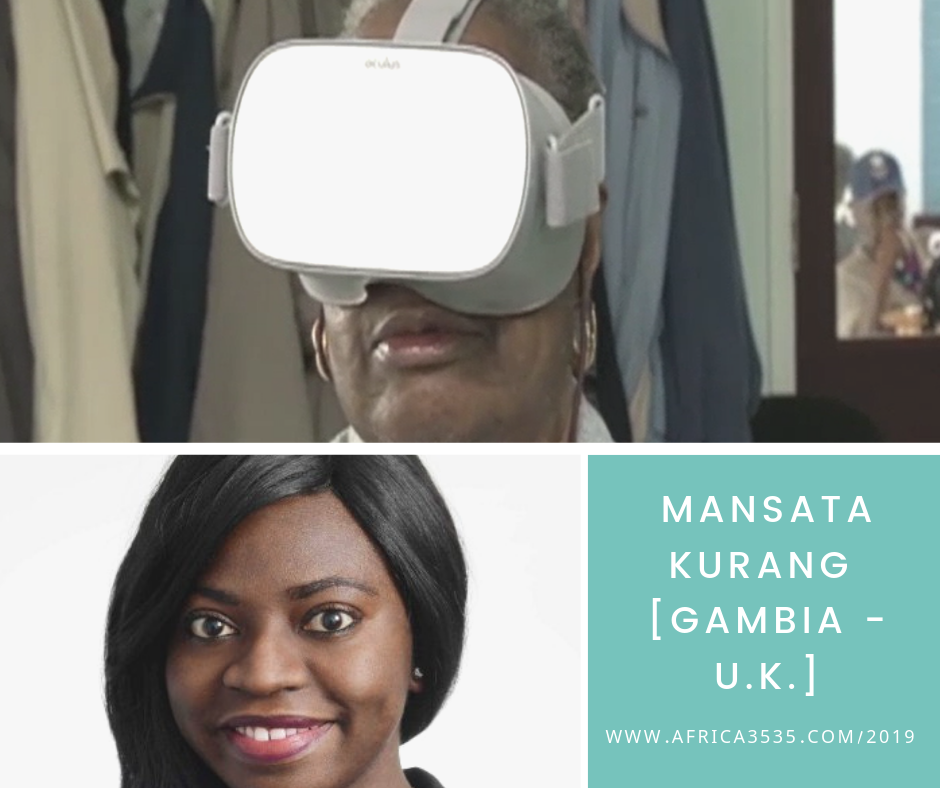 Worldwide, more than 50 million people suffer from dementia. As the head of « VR Revival », the mathematician and technophile Mansata Kurang recreates 360-degree virtual reality films that depict familiar and peaceful scenes accompanied by music that serve as an effective therapeutic method to calm or to relieve patients with dementia. Included in the "Top 10 People's Champion" and "Top 100 Innovators" list in the UK by the Sunday Times and the Maserati List 2019, she would like to democratize this solution for all patients.
CORPORATE MANAGER
Modou Njie, 29 years old, Gambia
Modou Njie is building the entrepreneurial ecosystem in Gambia. Grind Banjul is part of a network belonging to the largest independent community of startups. Startup Grind actively develops, inspires and connects more than 1,500,000 entrepreneurs and develops startup ecosystems in 125 countries through events, media and partnerships with organizations such as Google for Startups. In Gambia, his team of 11 people has supported more than 1,100 beneficiaries who aspire to embrace entrepreneurship.
MUSIC
Kuami Eugene, 22 years old, Ghana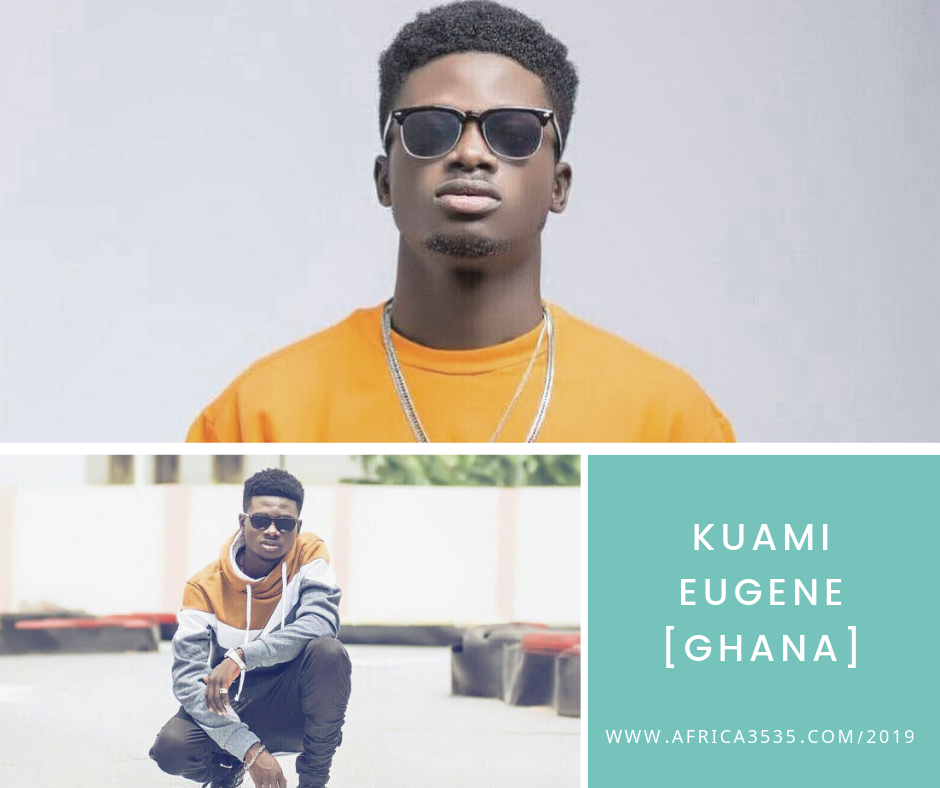 A school dropout so he could devote himself to his passion, Eugene Kwame Marfo better known as Kuami Eugene is a Ghanaian singer-songwriter of Highlife and Afrobeats. At just 22 years old, he has established himself as a figurehead of Ghanaian music and now dreams of conquering Africa and the world.